Johnathan Maendel
Graduate Program Coordinator
BA: Dominican University (2005)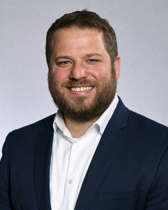 Biography:
Serving as the Graduate Program Coordinator, Jonathan oversees the Chemistry Ph.D. program. Jonathan joined the Northwestern staff in 2007, when he was hired as a graduate program assistant. He has served the department in various student-interfacing roles.
Jonathan graduated from Dominican University in 2005 and had the pleasure of moving to South Africa to volunteer as a teacher at Sparrow Schools for a one-year term. This experience was equally challenging, rewarding, exciting, and an eye-opening experience and has shaped much of his career missions moving forward. After the year was complete, he returned to Evanston where he was hired by the Chemistry Department. He has continued to pursue his passion of soccer as a youth coach in the Northshore area where he has had the pleasure of watching many young people develop both on and off the soccer field.
Jonathan is currently attending classes part-time toward a Master's degree in Higher Education Administration and Policy at Northwestern University. He enjoys bringing what he learns in the classroom back into his day-to-day work with students. Outside of work, he and his wife have caught a bit of the travel bug and have been fortunate enough to visit Greece, Italy, South Africa, and Thailand. They are hoping to be able to travel again soon.
Back to top