Chad Mirkin
Professor
B.S.: Dickinson College 1986; Ph.D.: Penn State University 1989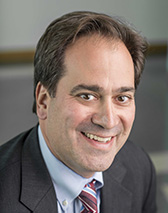 Affiliations
George B. Rathmann Professor of Chemistry

Materials Science and Engineering; Medicine; Biomedical Engineering; Chemical and Biological Engineering; Director of the International Institute for Nanotechnology
Research Statement
Mirkin group research focuses on developing methods for controlling the architecture of molecules and materials on the 1 – 100 nm length scale, understanding their fundamental properties, and utilizing such structures to develop novel analytical tools that can be applied in the areas of chemical and biological sensing, gene regulation, immunomodulation, lithography, catalysis, optics, and energy generation, storage, and conversion. Mirkin has pioneered the use of nanoparticle-biomolecule conjugates as synthons in materials science and the development of many nanoparticle-based extra- and intracellular biodiagnostic and therapeutic tools.
Selected Publications
Lin, H.; Lee, S.; Sun, L.; Spellings, M.; Engel, M.; Glotzer, S. C.; Mirkin, C. A. "Clathrate Colloidal Crystals," Science, 2017, 355, 931-935.
Chen, P.-C.; Liu, X.; Hedrick, J. L.; Xie, Z.; Wang, S.; Lin, Q. Y.; Hersam, M. C.; Dravid, V. P.; Mirkin, C. A. "Polyelemental nanoparticle libraries," Science, 2016, 352, 1565-1569.
Kim, Y.; Macfarlane, R. J.; Jones, M. R.; Mirkin, C. A. "Transmutable nanoparticles with reconfigurable surface ligands," Science, 2016, 351, 579-582.
Lifschitz, A. M.; Young, R. M.; Mendez-Arroyo, J.; Stern, C. L.; McGuirk, C. M.; Wasielewski, M. R.; Mirkin, C. A. "An Allosteric Photoredox Catalyst Inspired by Photosynthetic Machinery," Nature Communications, 2015, 6, 6541.
Ozel, T.; Bourret, G. R.; Mirkin, C. A. "Coaxial Lithography," Nature Nanotechnology, 2015, 10, 319-324.
Jones, M. R.; Seeman, N. C.; Mirkin, C. A. "Programmable Materials and the Nature of the DNA Bond," Science, 2015, 347, 1260901.
Radovic-Moreno, A. F.; Chernyak, N.; Mader, C. C.; Nallagatla, S.; Kang, R.; Hao, L.; Walker, D. A.; Halo, T. L.; Merkel, T. J.; Rische, C.; Ananatatmula, S.; Burkhart, M.; Mirkin, C. A.; Gryaznov, S. M. "Immunomodulatory Spherical Nucleic Acids," Proc. Natl. Aca. Sci., 2015, 112, 3892-3897.
Macfarlane, R. J.; Jones, M. R.; Lee, B.; Auyeung, E.; Mirkin, C. A. "Topotactic Interconversion of Nanoparticle Superlattices," Science, 2013, 341, 1222-1225.
Jensen, S. A.; Day, E. S.; Ko, C. H.; Hurley, L. A.; Luciano, J. P.; Kouri, F. M.; Merkel, T. J.; Luthi, A. J.; Patel, P. C.; Cutler, J. I.; Daniel, W. L.; Scott, A. W.; Rotz, M. W.; Meade, T. J.; Giljohann, D. A.; Mirkin, C. A.; Stegh, A. H. "Spherical Nucleic Acid Nanoparticle Conjugates as an RNAi-Based Therapy for Glioblastoma," Science Trans. Med., 2013, 5, 209ra152.
Langille, M. R.; Zheng, J.; Personick, M. L.; Mirkin, C. A. "Stepwise Evolution of Spherical Seeds into 20-Fold Twinned Icosahedra," Science, 2012, 337, 954-957.
Macfarlane, R. J.; Lee, B.; Jones, M. R.; Harris, N.; Schatz, G. C.; Mirkin, C. A. "Nanoparticle Superlattice Engineering with DNA," Science, 2011, 334, 204-208.
Yoon, H. J.; Kuwabara, J.; Kim, J.-H.; Mirkin, C. A. "Allosteric Supramolecular Triple-Layer Catalysts," Science, 2010, 330, 66-69.
Huo, F. W.; Zheng, Z. J.; Zheng, G. F; Giam, L. R.; Zhang, H.; Mirkin, C. A. "Polymer Pen Lithography," Science, 2008, 321, 1658-1660.
Rosi, N. L.; Giljohann, D. A.; Thaxton, C. S.; Lytton-Jean, A. K. R.; Han, M. S.; Mirkin, C. A. "Oligonucleotide-Modified Gold Nanoparticles for Intracellular Gene Regulation," Science, 2006, 312, 1027-1030.
Mirkin, C. A.; Letsinger, R. L.; Mucic, R. C.; Storhoff, J. J. "A DNA-Based Method for Rationally Assembling Nanoparticles into Macroscopic Materials," Nature, 1996, 382, 607-609.
Selected Honors/Awards
2018 Remsen Award
2018 Ralph N. Adams Award in Bioanalytical Chemistry
2017 Fellow, American Chemical Society
2017 Wilhelm Exner Medal
2017 Dickson Prize in Science
2017 William H. Nichols Medal
2016 RUSNANOPRIZE
2016 Dan David Prize
2016  American Institute of Chemists Gold Medal
2015 Fellow, American Institute for Medical and Biological Engineering
2015 Raymond and Beverly Sackler Prize in Convergence Research
2015 Royal Society of Chemistry (RSC) Centenary Prize
2013 Fellow, National Academy of Inventors
2013 Linus Pauling Medal
2013 Walston Chubb Award for Innovation
2012 American Chemical Society Award for Creative Invention
2011 Fellow, American Academy of Arts and Sciences
2010 Fellow, National Academy of Medicine
2010 Fellow, National Academy of Sciences
2009 $500,000 Lemelson-MIT Prize
2009 Member, President's Council of Advisors on Science & Technology (PCAST, Obama Administration)
2009 Fellow, National Academy of Engineering   

 
Back to top