Sir Fraser Stoddart
Professor
B.S.: Edinburgh University 1964
Ph.D.: Edinburgh University 1966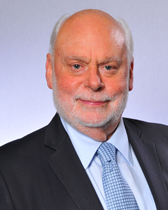 Affiliations
Board of Trustees; Director of the Center for Chemistry of Integrated Systems
Research Statement
The academic career of Fraser Stoddart can be traced through thick and thin from the Athens of the North to the Windy City beside Lake Michigan with interludes on the edge of the Canadian Shield beside Lake Ontario, in the Socialist Republic of South Yorkshire, on the Plains of Cheshire beside the Wirral, in the Midlands of the Heartland of Albion, and in the City of the Angels beside the Peaceful Sea. He has been a member of the faculty at Northwestern University since 2008. He is a Board of Trustees Professor and Director of the Center for the Chemistry of Integrated Systems. His research interests are in chemistry beyond the molecule, which, combined with his interest in templation, has led to the template-directed synthesis, based on molecular recognition and self-assembly processes, of a wide range of mechanically interlocked molecules, bistable variants of which have found their way in the form of switches into molecular electronic devices and drug delivery systems. In terms of molecular structure, his research straddles the size regime from the mesomolecular scale all the way up to the nanoscopic, microscopic and macroscopic levels: it includes wholly synthetic polymers and metal-organic frameworks. He also embraces radical chemistry in both the supramolecular and mechanostereochemical domains.
Selected Publications
Semiconducting single crystals comprising segregated arrays of complexes of C60 (Barnes JC, Dale EJ, Prokofjevs A, Narayanan A, Gibbs-Hall IC, Juríček M, Stern CL, Sarjeant AA, Botros YY, Stupp SI and Stoddart JF), J. Am. Chem. Soc. 2015, 137, 2392–2399.
Carbohydrate-mediated purification of petrochemicals (Holcroft JM, Hartlieb KJ, Moghadam PZ, Bell JG, Barin G, Ferris DP, Bloch ED, Algaradah MM, Nassar MS, Botros YY, Thomas KM, Long JR, Snurr RQ and Stoddart JF), J. Am. Chem. Soc. 2015, 137, 5706–5719.
Tunable solid-state fluorescent materials for supramolecular encryption (Hou X, Ke C, Bruns CJ, McGonigal PR, Pettman RB and Stoddart JF), Nat. Commun. 2015, 6, Article 6884.
Design and synthesis of non-equilibrium systems (Cheng C, McGonigal PR, Stoddart JF and Astumian RD), ACS Nano 2015, 9, 8672–8688.
Allosteric modulation of substrate binding within a tetracationic receptor (Henkelis JJ, Blackburn AK, Dale EJ, Vermeulen NA, Nassar MS and Stoddart JF), J. Am. Chem. Soc. 2015, 137, 13252–13255.
Induced-fit catalysis of corannulene bowl-to-bowl inversion (Juríček M, Strutt NL, Barnes JC, Butterfield AM, Dale EJ, Baldridge KK, Stoddart JF and Siegel JS), Nature Chem. 2014, 6, 222–228.
Lock-arm supramolecular ordering: A molecular construction set for cocrystallizing organic charge transfer complexes (Blackburn AK, Sue AC-H, Shveyd AK, Cao D, Tayi A, Narayanan A, BS Rolczynski, Sarko JM, Bozdemir OA, Wakabayashi R, Lehrman JA, Kahr, Chen LX, Nassar MS, Stupp SI and Stoddart JF) J. Am. Chem. Soc., 2014, 136 B, 17224–17235.
Electron sharing and anion–π recognition in molecular triangular prisms (Schneebeli ST, Frasconi M, Liu Z, Wu Y, Gardner DM, Strutt NL, Cheng C, Carmieli R, Wasielewski MR and Stoddart JF), Angew. Chem. Int. Ed. 2013, 52, 13100–13104.
Selective isolation of gold facilitated by second-sphere coordination by α-cyclodextrin (Liu Z, Frasconi M, Lei J, Brown ZJ, Zhu Z, Cao D, Iehl J, Liu G, Fahrenbach AC, Farha OK, Hupp JT, Mirkin CA, Botros YY and Stoddart JF), Nature Commun. 2013, 4, Article 1855.
A radically configurable six-state compound (Barnes JC, Fahrenbach AC, Cao D, Dyar SM, Frasconi M, Giesener MA, Benítez D, Tkatchouk E, Chernyashevskyy O, Shin WH, Stern CL, Sarjeant AA, Hartlieb KJ, Liu Z, Carmieli R, Botros YY, Choi JW, Slawin AMZ, Ketterson JB, Wasielewski MR, Goddard WA III and Stoddart JF), Science 2013, 339, 429–433.
ExBox: A polycyclic aromatic hydrocarbon scavenger (Barnes JC, Juríček M, Strutt NL, Frasconi M, Sampath S, Giesener MA, McGrier PL, Bruns CJ, Stern CL, Sarjeant AA and Stoddart JF), J. Am. Chem. Soc. 2013, 135, 183–192.
Room temperature ferroelectricity in supramolecular networks of charge-transfer complexes (Tayi AS, Shveyd AK, Sue AC-H, Szarko JM, Rolczynski B, Cao D, Kennedy TJ, Sarjeant AA, Stern CL, Paxton WF, Wu W, Dey SK, Fahrenbach AC, Guest JR, Mohseni H, Chen LX, Wang KL, Stoddart JF and Stupp SI), Nature 2012, 488, 485–489.
Large pore apertures in a series of metal–organic frameworks, Deng H, Grunder S, Cordova KE, Valente C, Furukawa H, Hmadeh M, Gándara F, Whalley AC, Liu Z, Asahina S, Kazumorio H, O'Keeffe M, Terasaki O, Stoddart JF and Yaghi OM, Science 2012, 336, 1018–1023.
Great Expectations: Can artificial molecular machines deliver on their promise? (Coskun A, Banaszak M, Astumian RD, Stoddart JF and Grzybowski BA), Chem. Soc. Rev. 2012, 41, 19–30.
Selected Honors
2015 Honorary Professorship (Nottingham University)
2014 Membership of the National Academy of Sciences
2012 Fellowship of the American Academy of Arts and Sciences, USA
2011 Honorary Fellowship of the Royal Society of Chemistry, UK
2010 Honorary Doctor of Science Degree (St Andrews University, UK)
2010 Honorary Doctor of Science Degree (Trinity College Dublin, Ireland)
2009 Honorary Doctor of Science Degree (University of Sheffield, UK)
2008 Honorary Fellowship of the Royal Society of Edinburgh, UK
2007 Appointed Knight Bachelor by HM Queen Elizabeth II
2006 Honorary Doctor of Science Degree (University of Twente, The Netherlands)
2005 Fellowship of the American Association for the Advancement of Science, USA
2005 Honorary Doctor of Science Degree (University of Birmingham, UK)
1999 Fellowship of the German Academy (Leopoldina) of Natural Sciences
1994 Fellowship of the Royal Society of London, UK
Selected Awards
2016 Nobel Prize in Chemistry 
2014 Centenary Prize of the Royal Society of Chemistry
2013 IChemE North America Chemical Engineering Project Award for Innovation
2012 Distinguished Citizen Award, Illinois Saint Andrew Society, Chicago, USA
2010 Royal Medal of the Royal Society of Edinburgh presented by Duke of Edinburgh
2008 Davy Medal of the Royal Society of London
2008 Arthur C Cope Award (American Chemical Society)
2007 Feynman Prize in Nanotechnology (Experimental)
2007 Albert Einstein World Prize in Science
2007 Tetrahedron Prize for Creativity in Organic Chemistry
2007 King Faisal International Prize in Science
2007 Jabir Ibn Hyyan (Geber) Medal (Saudi Chemical Society)
2004 University of Edinburgh Alumnus of the Year 2005 Award
2004 Nagoya Gold Medal in Organic Chemistry
1999 Arthur C Cope Scholar Award (American Chemical Society)
1993 International Izatt-Christensen Award in Macrocyclic Chemistry