Remembering Nicolas "Nic" Watkins: A brilliant chemist with a big heart
March 15, 2023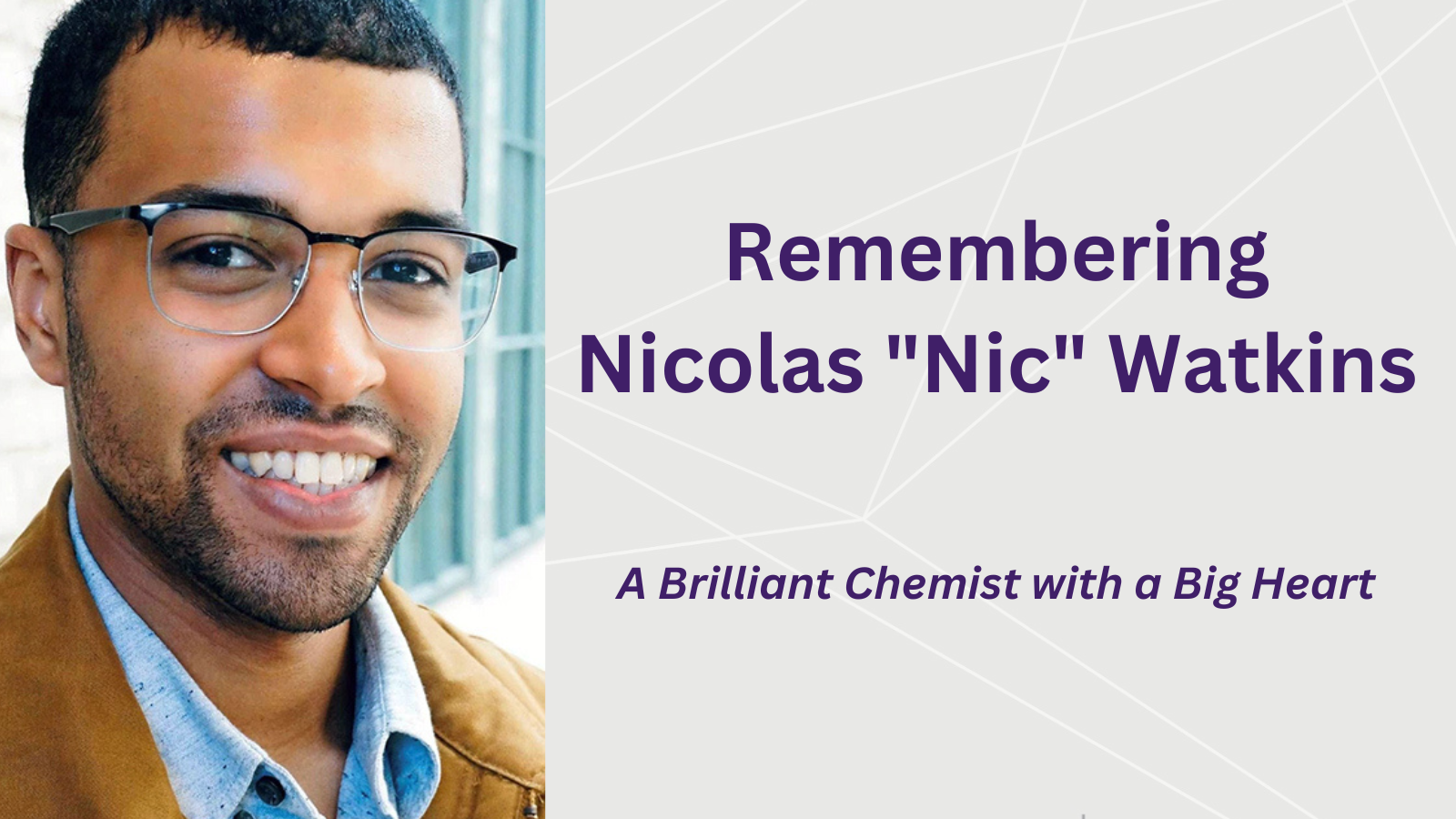 The Department joins our community in mourning the loss of Nicolas "Nic" Watkins. Nic was a talented chemist, passionate advocate for underrepresented students and a friend to many. His career held some of the most competitive graduate honors including induction into the Edward Bouchet Graduate Honor Society and the NSF Graduate Fellowship. During his time at Northwestern, Nic co-authored 11 papers and authored one first-author manuscript that were published in top-tier scientific journals such as Nano Letters, the Journal of the American Chemical Society, and Nature Communications.
Nic's impact on the Department and the STEM community went far beyond his scholarly work. He was committed to advancing inclusivity within the graduate community by taking a leadership role and advocating for those historically underrepresented in STEM fields. He joined the board of NUBonD (NU Building on Diversity) and helped to organize the "Faces of Science" speaker series focused on guests sharing their science and advocacy work. In 2019, Nic founded GoSTEM, the Northwestern graduate chapter of out in STEM (oSTEM), where he served as president for three years, creating a vital support system for LGBTQ+ students in STEM.  His continual commitment to these groups showcased his deep investment to diversity and inclusivity in the department.
What set Nic apart was not only his academic achievements and activism work, but his kindness, loyalty, and unwavering support for those around him:
"He had a gift for making connections between people and he was a deeply loyal and generous friend. He lent friends anything that he had to give including, once, a coat in the middle of a Chicago winter. He lent his ear often, imparting his (almost always correct) assessment of what troubled you with a smile and a joke. He seemed to always know exactly what to say to make you feel better about yourself."  - D. W.
"He always brought a new perspective to every one of our conversations and I loved learning from him…I will cherish every text, every walk we've taken, every hangout, and every video chat we've had because they made good days even better and bad days much brighter." – N. D.
"His friendship was a light in my life…Nic was someone who wanted to support and uplift everyone, and his passion and commitment helped make our community a more welcoming and inclusive place" - E. H. M.
The Department offers our deepest condolences during this difficult time. Nic will be remembered not only for his many contributions, but for the kind and caring person he was. We were fortunate to have known him, and his absence will be felt deeply by all who had the privilege of calling him a friend.
Those in need of support should use and share the following resources: