Alumnus Spotlight:
Hoang V. Le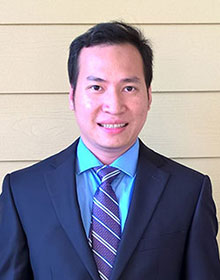 By Irena Garic 
Where are you from, and where did you go to school as an undergraduate / graduate? 
I was born and raised in Vietnam. I graduated from the University of California, Berkeley with a B.S. degree in chemistry in 2008 and from Cornell University with a Ph.D. degree in organic chemistry in 2013.
How did you become interested in your research?
While at Cornell, I received the NIH Chemistry/Biology Interface Training Grant and a paid internship at a pharmaceutical company called Avila Therapeutics, Inc. (now part of Celgene Corporation), which sparked my interest in medicinal chemistry and made me realize that I could utilize my chemistry knowledge to aid in pharmaceutical sciences research.
What was the best part about being a postdoc in the Silverman Group?
The best part of the Silverman group, besides brilliant science, is the people. Rick is a brilliant scientist. He is sharp, methodological, and attentive to details, yet he possesses great vision and always keeps the big picture in sight. I learned so much from him in my three years as a postdoc in his lab, and I am still learning from him every time I talk to him. Other members of the lab, including postdocs, graduate students, undergrads, and the secretary Ms. Pam Beck are incredibly smart, friendly, and very supportive inside and outside of the lab. We worked together, went out for lunch, and hung out after lab hours all the time. The Silverman lab is a great environment to train for and achieve independence in research career transition. I usually only met with Rick once a week to discuss my research progress. Most of the time, I had the independence to propose and lead the direction of my project. Rest assured there was a lot of self-motivation needed to move the project forward. 
Tell us more about the postdoctoral research you did in the Silverman Group? 
My postdoctoral research in the Silverman group included the design and development of small molecules that can cross the blood−brain barrier and inhibit the activity of γ-aminobutyric acid aminotransferase (GABA-AT) to raise the concentration of GABA in the brain in the treatment of epilepsy and addiction. My work resulted in several compounds that are highly potent GABA-AT inactivators. These included several conformationally restricted tetrahydrothiophene-based GABA analogues, as well as (S)-3-amino-4-(difluoromethylenyl)cyclopent-1-ene-1-carboxylic acid, a compound that was licensed to Ovid Therapeutics and is currently known as OV329. The design, synthesis, and biological evaluation of OV329 were a collaborative work between me and two other postdocs in the Silverman lab, Jose Juncosa and Kenji Takaya. 
Tell us more about your current research as an Assistant Professor of Medicinal Chemistry at the University of Mississippi? 
We are a synthetic medicinal chemistry lab. The research in our group focuses on rational design, synthesis, and biological evaluation of potential therapeutic agents. I know it sounds broad, but we have many interests, including cancer, infectious diseases, and neuroscience. We recently discovered an efficient synthetic route to L-γ-methyleneglutamine and its amide derivatives. Many of these compounds were shown to be as efficacious as tamoxifen or olaparib at arresting cell growth among ER/PR/HER2+ MCF-7, HER2+ SK-BR-3, and triple-negative MDA-MB-231 cancer cells. The mechanism of action for growth inhibition by these compounds may involve cytotoxicity. Notably, these compounds were shown not to inhibit the growth of nor exhibit any cytoxicity in non-cancerous cell line MCF10A. 
What advice would you give to the current graduate students / postdoctoral researchers?
I would like to remind them that their education and training did not start at graduate school. They have been on their own journey of education and training since elementary school. It is a marathon, and they will need to make the last stride to cross the finish line. They are doing their last stride right now; make it count. Help and support are always available from advisors, friends, and colleagues, so do not hesitate to ask for them. As always, self-motivation is the key component to any success. Self-motivation is like a muscle; exercise will make it stronger.
What is your favorite pastime and / or favorite vacation spot?
I enjoy playing tennis, snowboarding, and windsurfing, all of which I first learned at Cornell University during my graduate studies there. I don't usually travel much for vacation. I travel to several conferences a year, and that is enough of traveling for me. If I have to pick, I would rather stay on a beach somewhere and enjoy a couple of glasses of wine during my vacation time.
Back to top