Alumni Spotlights: Dr. Yvonne Martin and Professor William Martin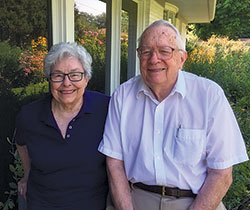 By Irena Garic
Dr. Yvonne Connolly Martin, retired Senior Volwiler Research Fellow at Abbott Laboratories, received her PhD in physical biochemistry from Northwestern in 1964. Dr. Martin received her BA in Chemistry and Biology from Carleton College in 1958, where she was the only woman to be a chemistry / zoology major in her year. After receiving her PhD, Dr. Martin worked at Abbot and then AbbVie for over forty years. During her tenure at AbbVie, she worked with computational chemistry and its use in drug design.
Professor William B. Martin graduated from Franklin & Marshall College and served in the United States Navy during World War II before receiving his PhD from Northwestern University. After he graduated, he started his chemistry with a research job at Abbott Laboratories, where he met his wife, Dr. Yvonne Connolly Martin. When a teaching role was offered to him, he took it and became a professor at Lake Forest College. During his tenure as a professor, he emphasized the importance of "hands-on chemistry," and having students work in labs as part of their education.
Even though they are both retired, they remain committed to chemistry and education, in particular providing financial assistance for students. Yvonne and William established the Yvonne C. and William B. Martin Endowed Scholarship for chemistry and physics students at her alma mater, Carleton College. While she was at Carleton, she received financial aid and for her 50th reunion, they established the scholarship as a way to give back.    
Back to top