Staff Spotlights: Dave Barnard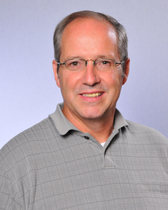 By Sophie Tidd 
Dave Barnard recently retired after having dedicated over 30 years to serving Northwestern faculty and staff, specifically within the Chemistry Department. For the past year and a half, Dave worked for NUIT under Scott Terry.
Dave began his career with NU in the Chemistry electronics shop upon his graduation from DeVry.  Hired by Robert Lloyd as an electronic technician, Dave managed the shop, ordered and dispensed discrete components.  The shop was geared towards research, but the doors were open to anyone who needed help.  Dave's affinity for electronics and computers, and his can-do spirit would ultimately lead him to a role supporting the integration of computers with instrumentation and the growing end-user computing needs within the Department of Chemistry. 
Dave and his wife have four children, whom they have home-schooled, the youngest being in high school.  They also recently became proud grandparents. Dave and his family enjoy camping and the mountains, and would spend a week each summer volunteering at a children's summer camp. 
Dave took advantage of the voluntary separation plan and left the university as of 31 August.  Although we miss his warmth and sense of humor, we have no doubt Dave is enjoying his retirement and keeping himself busy tinkering on his latest project.
Back to top