Alumna and Donor Highlight: Dr. Susan Mabrey Gaud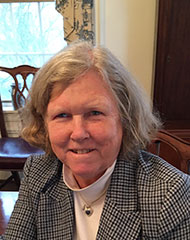 By Irena Garic 
Dr. Susan Mabrey Gaud, Retired Director of External Science and Technology at Kraft Foods
Susan grew up in Boston, received a B.A. in Chemistry from Connecticut College (New London, CT), earned her Ph.D. in Physical Chemistry from Northwestern University and spent several years as a research associate at Yale. In 1978, Susan took a position at Kraft Foods, Glenview, Il. She started as a research assistant in an R&D lab (studying the interactions among food components and on enhancing the protein content of your favorite cheeses!). A few years later she received an MBA in Finance from Northwestern's Kellogg School of Management.  At Kraft, she moved into management with steadily increasing responsibilities and retired as a Director of External Science and Technology. In that role, she helped scientists and engineers make strategic use of university and small company research.   After retiring from Kraft, Susan joined Executive Service Corps of Chicago (a non-profit providing consulting services to other non-profits)  as a consultant with expertise in Strategic Planning, Board Development, and Fund Development.  She has consulted on a variety of projects involving charter schools,  theater, and arts organizations, a music festival, and a scholarship fund.
Susan is an Evanston resident. She is married (to a chemist) and has two adult children. She continues her close association with Northwestern Chemistry and Kellogg School of Management. She is an active member of several professional societies including The American Chemical Society and The Industrial Research Institute. She serves on several college and university industrial associates boards. She still plays tennis and golf and enjoys learning in retirement classes, reading, and theater.
What made you choose Northwestern for your Chemistry Ph.D. Program?
I can't say that it was exactly a carefully thought out scientific decision. I was in Evanston for a wedding during the semester break in my senior year in college. With some free time on a Saturday morning, I visited Northwestern Chemistry. The place was bustling with activity and several professors including the Chairman took time to talk with me and explain the program. At the time, my college program was not very strong and the NU chair explained that they would work with me to make up any deficiencies. I was sold.
What's your favorite memory of your time at Northwestern?
It's hard to choose just one. My class was unusual at the time as it was one-third of women. The department was supportive of all of us. We were all (male and female) headed in the same direction and I remember how creative we were when it came to eating out and doing other things at low cost. I was impressed with the collegiality among the faculty and staff. A requirement for a Ph.D. was to be a TA however you were funded. This was a lot of fun and a great way to learn new or unfamiliar things.
What class experience / professor had the most impact on your academic / professional career?
My research professor was I.M. Klotz. Two things stand out. One, he essentially set me out in the desired direction and then left me on my own. He was always available when I needed advice or was stuck. Numerous post-docs in his group were always very helpful. The lesson there was 'find good people, give them direction and then get out of the way'. This was a very helpful philosophy when managing scientists in an R&D environment.  Two, we had 'group' meetings where a Ph.D. student or post-doc would give a research update or review some pertinent literature (only if you never did any research nor read the literature, could you do a song and dance routine…!). Meetings were at least twice a week so your turn came up frequently! This was great preparation for public speaking and explaining your research clearly and succinctly. This held me in good stead when I needed to make a case for research projects to Kraft marketing or finance. 
What has your experience been being a woman in STEM; Do you have any advice you'd like to give for the younger generation of female STEM students? 
My experience was a good one starting with my class at NU. I know that now the male/female ratio is more balanced than it was (as I mentioned, my class was an anomaly). I'm sure there are many books written on this topic but I think it is important for women to be assertive and make sure their ideas and successes are attributed to them. Sometimes working in teams can make this hard but be sure to speak up. I found that involvement in external scientific societies and conferences was important to broaden exposure and provide networking opportunities. 
What advice do you have for students who are considering a career in industry over in academia?
There isn't one right answer. Again, I didn't make my decision using a careful scientific analysis. I wanted to come back to the Chicago area. A colleague told me that there was an open scientific position at Kraft (that was a surprise; I thought they probably just did recipes). However, I did research the position carefully before accepting the offer. I wanted to know the extent of the research program and be assured I wouldn't be a lone scientist among chefs. Not so. Kraft had a very sophisticated and diverse scientific and engineering structure. Another consideration was the thought that a '9-5' job would make balancing personal and professional life more manageable. In fact, I soon discovered that as a professional, there is no such thing as a mental 'time clock' that turns on at 9 and off at 5. That time, the trade-off seemed to be between needing to be at your job for set hours in industry and, though easily an equal or greater amount of work, more flexibility in structuring your time in academia.