Staff Spotlight: Abby Rosensweig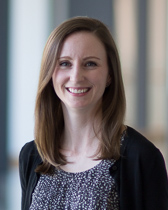 By Irena Garic
Where are you from, and where did you grow up?
I grew up in Litchfield, Connecticut. Since graduating high school, I have lived in Nashville, TN; Sofia, Bulgaria; and Fort Worth, TX before moving to Evanston nearly 3 years ago.
Tells us more about your career path at Northwestern University, when did you start, and did you always work at the Chemistry Department?
I joined the Department of Chemistry and Northwestern in November 2017, when I started as a program assistant. I transitioned into my current role as an undergraduate program coordinator in the fall of 2018.
What is your favorite thing about working at the Chemistry Department?
I enjoy making systems work efficiently and organizing processes, so I like the tasks associated with my job. I also appreciate how open people in the department are to trying a new approach to things that we do, such as adopting new technologies in the undergraduate program. Above all, working with people who are passionate about discovery of knowledge is invigorating.
Before working at Northwestern, what was the most unusual or interesting job you have ever had?
I spent two years working as a college counselor at a high school in Sofia, Bulgaria. The students were nearly all Bulgarian and most sought to attend college outside of Bulgaria, so I helped them with their applications to schools in the US and Europe. They were fascinating and motivated students and I loved living in such an interesting part of the world.
What would you do (for a career) if you weren't doing this?
I (usually) enjoyed working in undergraduate admissions and college counseling, so I may end up back in that field eventually. But for now, I'm very happy working here in Chemistry and being a professional pat-a-cake player on the weekends with my 7-month-old. 
If you could meet anyone, living or dead, who would it be and why?
I'd love to have a power lunch with Ruth Bader Ginsburg, Shirley Chisolm, Dolly Parton, and Ida B. Wells to learn from their pioneering spirits and witness these remarkable women interact with each other.
What is your favorite vacation spot and why?
My family lives all over the US, so most of my vacations now involve going to see family. Thankfully, they're in fun places like Florida, Los Angeles, Oregon, and the Northeast.
What is your favorite pastime?
I enjoy reading, especially fiction.
Back to top