Faculty Spotlight: Dayne F. Swearer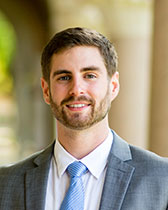 By Irena Garic
Dr. Dayne Swearer is an Arnold O. Beckman Postdoctoral Fellow in the Chemical Sciences currently working with Professor Jennifer Dionne in the Material Science and Engineering Department at Stanford University. Dayne received his B.S./M.S. in chemistry from Drexel University in 2014. Dayne then moved to Rice University to pursue his Ph.D. where he was an NSF Graduate Research Fellow working in the Laboratory for Nanophotonics under the mentorship of Professor Naomi Halas. At Rice, Dayne developed the 'antenna-reactor' concept for efficiently driving chemical reactions using light and built novel spectroscopic tools for monitoring chemical transformations. In July 2019, Dayne moved to Stanford where his work has focused on developing new methodologies for observing nanoscale optical processes in the TEM. In January 2022, Dayne will be moving to start his independent career as an assistant professor in Chemistry and Chemical & Biological Engineering at Northwestern University. Dayne's long-term research interests include developing novel nanophotonic materials that contribute to improved global health and sustainability and the investigation of novel spectroscopic and imaging tools that correlate atomic structure to function.
What Chemistry class / professor did you enjoy the most as an undergraduate or graduate student and why?
As an undergraduate at Drexel, I had a course entitled "Qualitative Organic Chemistry" that I absolutely loved. At the beginning of the semester we were handed several vials of unknown samples – a few of mine were basically brown sludge. I was then set loose in the lab and allowed to use any technique or reaction I could think of to separate, purify, and identify the unknown organic compounds while systematically eliminating all other possibilities. The open-ended nature of this course really made me strategize my time, critically analyze numerous different competing scenarios, and it gave me a ton of hands-on lab experience. If a single class could ever teach the skills necessary for real research, this was it.
What are some potential applications for the work that you're doing?
Nanophotonics is a subdiscipline with wide-reaching potential in many applications ranging from cancer therapeutics to optical computing and water purification. A key area of my research specifically investigates how we can manipulate light at the nanoscale and funnel that energy into the driving force for chemical reactions. My lab will use these techniques to address some of the biggest challenges in global sustainability, including CO2 conversion, the production of zero-carbon energy carriers, and the catalytic upcycling of waste plastics. Of course, there are many other potential applications that I'm looking forward to exploring at Northwestern.
What are you most looking forward to by starting your independent career at Northwestern Chemistry?
I am most excited to have the chance to build my own laboratory and to work with all of the students, postdocs, and faculty within the Chemistry department and greater Northwestern community. My research is highly interdisciplinary, and I am looking forward to joining forces with all of the great minds on campus to see what we can accomplish.
Tell us more about you joining the Marine Debris Cleanup & Education Expedition in Kodiak, AK this Summer? 
For the last few years, I've been doing all I could to learn about the complex nature of the global plastic waste problem. One of the people I've been introduced to was Scott Farling, co-founder of the Ocean Plastics Recovery Project. Recently, I sent Scott a casual email asking if he could send me plastic debris that he recovered during one of his research missions so that I could run some experiments in my lab. It turned out Scott was in Alaska preparing for another expedition and couldn't get me the materials, however, there was an extra spot on the next ship leaving port in a few days if I wanted to join. I'm always up for a good adventure, so I quickly rearranged my calendar and booked my ticket for the following week. While volunteering with the Ocean Plastics Recovery Project, I'll be removing plastic marine debris along the coastline of Afognak Island, getting frontline experience with the research challenges we face when dealing with the global ocean plastics crisis, and mentoring the university and high school student volunteers who will be joining the expedition to be future environmental leaders. This opportunity is clearly a bit removed from the work I do on an average day, but I believe these real world experiences are vital for scientists to focus our efforts and make impactful changes.
What is one thing not on your CV that you would like us to know?
 It's hard to narrow it down to just one thing, but over the past few years I've been learning the ropes of rock climbing and mountaineering and will be attempting a summit of El Dorado peak in the North Cascades later this year.
Back to top