Student Spotlight: Ellen Chao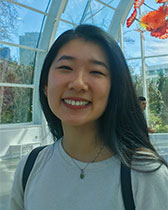 By Irena Garic
Where are you from or where did you grow up?
I have lived all over the United States, but I would say home is the Bay Area in California. The windy winters of Chicago were definitely a change of pace! 
What made you decide to attend Northwestern University?
Fifteen-year-old Ellen really liked the color purple! In all seriousness, I knew I wanted to pursue a degree in  chemistry, and Northwestern University has one of the best programs in country. The rigor and cooperativity I have experienced here has helped me become a better student and scientist, and I have absolutely no regrets about joining the Wildcat family! 
What has been your favorite Chemistry class?
This is probably not what most people answer but I genuinely really loved organic chemistry! All the professors were super excited to show us reaction after reaction at 9 in the morning. I can't say I matched their energy then but now as an organic chemistry tutor, I want to help others deconvolute such a difficult subject and realize there is nothing to fear! 
Is there a professor that has made an impact on your academic career?
Professor Fred Northrup has helped me so much throughout my academic career, from always making time for me to stop by for a chat about anything to guiding me through the chemistry major. I was unsure of my every academic move, but Professor Northrup really gave me the confidence to tackle everything in stride. I also cannot forget about my research adviser Professor Neil Kelleher who has welcomed me into his group with open arms and such enthusiasm that it's infectious. I have learned so much about not only chemical research but also how to think independently and scientifically to reach my goals.
What has been the highlight of your academic career thus far?
Being a Lambert Fellow has absolutely been the highlight of my academic career! Not only was I able to bring a research interest of mine to fruition, but I was also able to meet the amazing Dr. Andrew Chan who gives amazing advice and continues to inspire me. It was such an honor to be a part of such a prestigious program.
Tell us about your experience of conducting research during COVID-19 pandemic? What are some challenges that you encountered and how did you overcome it?
The pandemic pretty much put a halt to research in both lab groups I am a part of for spring and much of summer quarter. Fortunately, I worked with my mentors to add a computational aspect to my project, which was an area of research that I had never worked with before. This work has now become pivotal in my thesis as I use molecular networks to screen for unidentified compounds that could have antiparasitic activity. The main challenge for me was honestly staying focused and trying not to get overwhelmed by the pandemic, research, and academics all occurring simultaneously. Being open about when I was struggling really helped me manage these challenges.
Where do you hope to be in your career in the next 10 years?
The question all seniors fear! I am headed to medical school this year and I am so excited to begin that part of my academic journey. In 10 years, I hope to be a physician who guides her community not only with knowledge but also with kindness. I definitely think we need more of that in our lives right now and probably even more so in the decade to come. 
Back to top