Staff Spotlights: Alice Christensen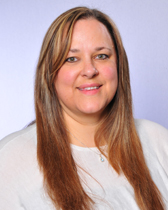 By Pam Beck 
Congratulations on receiving the Phil Waldenberg WCAS Staff Mentor of the Year Award! Tell us more about your career path at Northwestern University.
My career began with Northwestern. I started in Electrical Engineering and Computer Science as an Assistant to the Chair, then moved into Research Administration in the same department. I came to Chemistry a few years after that, working as an assistant to a professor who was the editor of an ACS Journal, providing both editorial support for the journal and regular administrative support, and I learned a new set of skills working for a second professor. But I've always loved numbers, so I was happy when I was recruited to work in the Chemistry business office as a Financial Coordinator. After learning post-award management as an Financial Coordinator, I became a full Research Administrator and now mange proposals for a portfolio of faculty members. 
What is your favorite thing about working in the Chemistry Department? 
Without a doubt – the people. I come from a diverse background, and I enjoy meeting people from around the world and hearing their stories (see family story below). The financial work also appeals to the analytical half of my brain. I find great satisfaction in putting together the pieces of a proposal or budget in an ordered form (although the process can sometimes be quite chaotic!).
What is your favorite change to the campus landscape since you've been here?
I'm amazed how much Tech has changed. The offices used to look like something out of a war bunker; the working environment is much more pleasant now. And I've always enjoyed being around water, so what could be better than working on a lakefront campus?!
Where did you grow up?
I grew up in the Old Irving Park neighborhood of Chicago – having been born in the U.S. three months after my parents arrived from Argentina. My parents are European, but my mother ended up in Uruguay and my father in Argentina, which is where they met. They each had a multi-lingual heritage, but Spanish was the common language, so therefore the language of my home. I didn't learn to speak English until I started school. As family was so far away, our great friends here became like family to my father, my mother, my sister, and me.
What would you do if you weren't working as a Research Administrator in Chemistry?
Much as I enjoy using the analytical side of my brain at work, I have a creative, artistic side, too. I would probably choose to do something that involves using my hands, or perhaps involving travel. I could see a dream job of giving my own tours, learning everything about a new place and planning the logistics of the trip, then bringing people to that passion.
What is your favorite pastime?
As I mentioned, I enjoy working with my hands – all kinds of fiber arts and painting. Music has always been an important part of my life, too. I've dabbled in several instruments, but I'm most accomplished at the piano. And of course there's reading and cooking. I'm currently making my own extracts for flavoring baked goods; Meyer lemon is my top pick for potential crowd-pleaser.
What is your favorite vacation spot and why?
Wow – that's hard to pin down, as I love to travel. If I had to choose I would say the mountains – from the Canadian Rockies through Colorado, where my family vacationed yearly (viva the West!), continuing down the range through Argentina. As we have a lot of family in Argentina, I've been there several times, and made it all the way to Patagonia in 2010. I also had a wonderful trip to Australia in 2014, taking seven flights in seven days traveling all over the country.  Can't wait to go back!
What is the first thing you will do when quarantine is lifted?
Travel! (See above.) I'm sure I'm looking forward to a lot of the same things other people are, too – something as simple as coffee with friends has taken on a new meaning.
Back to top