Student Spotlight: Evan Lee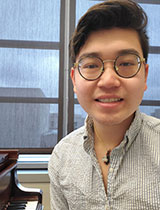 By Irena Garic
Where are you from or where did you grow up?
Born and bred in NYC, more specifically from the borough of Brooklyn. I really was the epitome of a city kid.
What made you decide to attend Northwestern University?
Before college, I was pretty dead set on becoming a concert pianist. I ultimately chose Northwestern because it offered me the option to pursue a more well-rounded education than a traditional music conservatory. As an FGLI student, Northwestern also provided me with the most financial support, which was an important factor in my decision. I've learned so much from my professors and peers in both of my fields, so I'd say it was a good choice! 
What has been your favorite Chemistry class?
It's really hard to say after having taken so many! I've really enjoyed a lot of my classes that the Chemistry Department offers, particularly the electives. Professor Thomson's Advanced Organic Synthesis course was perhaps my favorite. I really enjoyed building up my synthetic toolbox every class and looking at case studies of gnarly looking molecules being built from scratch. My favorite aspect of the class was the final project, where I had to propose a synthesis for a natural product.
Is there a professor that has made an impact on your academic career?
I've been working in Professor Teri Odom's lab for quite a few years now, and she has really provided me with an environment to grow as a scientist. While the learning curve was initially a bit steep, I really appreciated how she gave me the space to find my own way but provided guidance when needed. I also worked with several of her graduate students on various topics, which exposed me to a variety of topics in nanoscience. I also do want to mention Dr. Sylvia Wang, my piano professor for the past 5 years. She has not only pushed me to be a better musician, but a better person, too. 
What has been the highlight of your academic career thus far?
Well, getting featured on the student spotlight is pretty cool! In all honesty, I think the highlight of my academic career is just finally getting to a place where I feel comfortable in my abilities as a chemist. I didn't have much of a science background before coming to NU, so I struggled a bit in my first few years. I am in my 5th and final year of my degree program now, and I am now confident that I will not say something ridiculous in class or mess up too many of my experiments. I've also had to figure out how to balance and manage my time between chemistry and music classes, research, work-study, as well as practicing every day. Two quarters before graduation, I feel like I finally found the right balance!
Tell us about your experience of conducting research during COVID-19 pandemic? What are some challenges that you encountered and how did you overcome it?
The pandemic basically wiped out spring quarter in terms of in-lab work. I received a Summer Undergraduate Research Grant for 2020, which originally stipulated that we must complete work at home. This ended up being a blessing in disguise, as I was able to use the time to really dive into the literature and formulate a compelling project for my senior thesis. Fortunately, the laboratories reopened for undergrads in mid-summer, which allowed me to hit the ground running with these plans. Currently, I'm working on making new luminescent metal-organic framework (MOF) thin films to couple to plasmonic nanoparticle arrays. A good portion of the science behind my project is not typically covered in the classroom, so I had to get comfortable with understanding it through the primary literature.
Where do you hope to be in your career in the next 10 years?
I am passionate about sustainable / green technology and how chemistry plays an important role in our environment. I've developed an interest in the business/entrepreneurial side of science and hope to take a leadership role in this space. I can see myself as a project manager, CTO, or maybe at a venture capital firm looking for the next big startup to invest in. Or maybe I'll just end up opening a chemistry themed bar that isn't tacky. Who knows?
What is the first thing you will do after COVID-19 pandemic is over?
The very first thing I'm doing (when Dr. Fauci gives us the A-OK) is taking off my mask -- they fog up my glasses despite my best efforts to prevent that. I'm going to dress up to the nines and go see an opera at the Lyric downtown with my SO, then eat at a crowded restaurant. I miss a lot of my friends who have graduated last year without a proper goodbye, so I hope to fly or take a road trip to go see them. 
Back to top