Student Spotlight: Jacqueline Godbe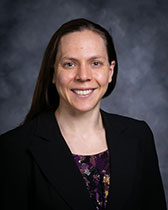 Sam Stupp Alumna 2020 / Currently completing MD at Feinberg School of Medicine
By Irena Garic
What has been your favorite Chemistry class or Chemistry professor during undergrad at Northwestern? 
I really enjoyed Medicinal Chemistry with Professor Silverman. I took it spring of my senior year and really just enjoyed it! 
What made you decide to attend Northwestern University and enter MD/PhD program?
I made the decision to attend NU as an undergraduate because of the Integrated Science Program (ISP). In high school, I knew I wanted to pursue STEM research, I just didn't know which field yet and ISP seemed perfect for that. I decided to stay at NU for my MD/PhD program because I knew that I wanted to work in nanoscience and Northwestern is hands-down one of the best places to do that kind of research. It also has an excellent track record of startups coming out of the chemistry department. With that in mind, I knew that I wanted to stay here.
How did you become interested in your research?
Professor Stupp is incredibly charismatic when he speaks about his research. I was sold on my research project when I met with him because of his enthusiasm for both intrinsic chemistry and the way that it could be used to help people.
How would you explain what you study to non-scientists?
I design 3D cell culture scaffolds where we can tune the mechanical properties to see how cells respond to changes in stiffness. The easiest way to picture it is to imagine building a trellis for garden plants. I can make the structure stronger by changing the glue I use to bind the pieces of wood together or by making the individual pieces of wood less floppy. Then I see which structure the flowers (or in my case stem cell-derived neurons) like best.
What are some potential applications for the work you're doing? 
Parkinson's Disease is a disease where dopamine-producing neurons are selectively lost. For the past 50 years, we've treated this disease by replacing the dopamine. However, advances in stem cell technology mean that we might be able to replace the neurons themselves. Unfortunately, this approach is plagued by a number of issues including low survival of the implanted neurons. Mechanically optimized gels might improve neuronal survival by reducing the stress of implantation and providing a good environment to grow.
What has been the highlight of your academic career thus far?
Without a doubt, defending my PhD. I can barely begin to describe how happy being called "Dr. Godbe" made me feel. Growing up, "Dr. Godbe" was always my dad so earning that title meant so much.
How did you begin competing in triathlons?
My first triathlon was a dare! After I graduated in 2012, one of my ISP friends asked me to train for the Chicago triathlon with him as a way to get in shape and stay motivated. I borrowed a bike, had a lot of fun and won my division. The next year, I did the Chicago Triathlon again, this time with my now-fiancé and fellow MD/PhD student, John Cooper. Once again, I borrowed a bike, had a lot of fun, and won my division.
At that time, John and I decided that triathlons were good motivation to work out and a good excuse to travel. We started slowly, traveling to local triathlons and learning more about the sport. As we got better and better, we started to compete in bigger events. In 2016, we competed in Age Group Nationals for the first time and I completely surprised myself by winning and earning a spot to compete for Team USA in the 2017 Age Group World Championships in Rotterdam the next year. With the promise of a trip to Europe on the horizon, I joined a local triathlon club and committed myself to doing the best that I could.
Winning the 2017 Age Group World Championships was an amazing experience and it set the stage for me transitioning to professional triathlon. A point of clarification here is that professional triathlon is not at all like professional football or baseball! As an individual sport, it's up to the athlete to determine which races to compete in. To balance my responsibilities in the lab, that meant 4-5 races per year with an emphasis on local events like the Chicago Triathlon. However, John and I still got to visit numerous places from New York to Cozumel.
The important thing for John and I throughout all of this is that it remains fun. Our studies are our priority and triathlon training is our outlet. Particularly now that we're back in medical school and our time is rigidly structured, it's important to keep everything in perspective. 
What is the first thing you will do after COVID-19 pandemic is over?
I don't think it'll be truly "over" for a while, but I am excited to see restrictions gradually ease throughout the state as vaccine distribution efforts scale up. I am also excited to be fully vaccinated soon! However, even with that personal safeguard in place, I will continue to wear my mask and practice social distancing as it's important for NU students and alumni to model healthy behavior for our communities. We also don't know yet whether vaccinated individuals can transmit the disease to those around them.
However, I do have a lot of excitement coming up this year. I am getting married in the end of April (outdoors, masked and with a limited guest list) and look forward to seeing my family in person. I've done my best to keep in touch via Zoom but I miss them and want to see my dad cry when he walks me down the aisle.
Jacqueline's start to virtual cycling
When COVID virtually eliminated triathlon competition in 2020, I turned to virtual cycling to stay motivated and in shape. For those of you that are Peloton fans, the setup is very similar except that I'm able to use my outdoor racing bike by taking off the back wheel and connecting it to a trainer that directly measures my power output. In this way, I can use my bike as a controlled to play video games through online cycling platforms like Zwift and RGT. I can also get a great workout in while binging Netflix!
Due to the pandemic, the popularity on virtual cycling grew exponentially in the first half of 2020 as the sporting community struggled to compensate for the lack of outdoor races. For example, Zwift hosted a virtual Tour de France featuring many real-life professional teams as well as courses on which amateur cyclists could test their legs. In November, the UCI announced that it would be holding the first online Esports World Championship in December to acknowledge this growing sport. I won a spot on Team USA by placing first in the qualifying race and earned the right to wear a team USA jersey!
In December, I took 5th place in the World Championships behind real life world champions. Even though I never left my apartment, it was a truly amazing experience to line up at a virtual start line with so many incredible women.
What I think is really amazing is how many of the women I meet on the virtual cycling platform have advanced degrees. I regularly race against a professor of chemistry, a medical student and a practicing orthopedic surgeon! The flexibility of this format has really enabled those of us with busy professional schedules keep competing. 
Back to top