Alumni Spotlight: Shaunna McLeod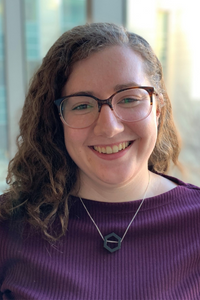 Shaunna McLeod is a 2020 Meade Group PhD alumna. She is originally from the Buffalo, New York area, attending the University at Buffalo for her undergraduate studies in Chemistry and Mathematics. Shaunna is currently an Assistant Instructional Professor in the Department of Chemistry at the University of Chicago where she teaches general chemistry and other general education chemistry courses.   
You were in Tom Meade's group while at NU, what was your favorite part about the group?    
Tom encourages his students to pursue their interests and get what they want out of their PhD experience. I had a lot of freedom to explore new research directions and collaborations as well as various professional development activities. I really appreciated this environment for my personal and professional growth.    
I also worked with a ton of amazing people while in the group! Some of my best friends from grad school came from connections in the Meade Lab. My labmates in general were a great group to go to for a laugh, advice, or commiseration. It has been exciting to see where we all have gone after graduation.     
How did your time in the Department shape you? How has it inspired your teaching?   
While in the Department of Chemistry at Northwestern, I was very active in student organizations, namely Women in Science and Engineering Research (WISER) and Chemistry Graduate Students Teachers (CGST). Through both groups I was able to grow as a leader, becoming more confident in myself and what a group of dedicated individuals can achieve together. I am proud of the initiatives we were able to accomplish and inspired by the many passionate graduate students I got to work with across the department and TGS in general.   
My experiences with CGST and the Searle Center for Advancing Learning & Teaching had the biggest impact on my teaching. The Teaching Line Faculty in the department, particularly Veronica Berns and Stephanie Knezz, were so supportive of CGST and served as discipline-specific mentors for many grad students in the Searle Center programs. Veronica was my mentor for both the Teaching Certificate Program and Graduate Teaching Fellowship, and I really appreciate the freedom she gave me to try new things in her courses, especially around TA pedagogical development. In my first two years of teaching at UChicago, I have reflected a lot on the discussions I had with Veronica, Steph, and the CGST members around chemistry education, from course design for large enrollment classes to active learning strategies and inclusive teaching practices. This positive culture around teaching and learning in chemistry is something I try to bring to my interactions with students and TAs in my current department.   
Is there any advice you could give current Department students?   
Take advantage of the professional development opportunities that Northwestern has to offer! While you are in grad school you have free access to excellent programs for career exploration and professional skills development; these can be much harder to find post-graduation. I was involved in several rewarding programs through the Searle Center for Advancing Learning and Teaching that helped me grow as an educator and made me more competitive on the teaching job market. The Management for Scientists & Engineers course from Kellogg, INVO Practicum, and Data Science workshops are just some great experiences to consider TGS Opportunities Resource. Programming from the Northwestern Career Advancement office is also worth checking out - shoutout to PhD advisor Elysse Longiotti! As a student you are training for the next steps of your career, so make sure you are developing the skills you need that go beyond the research lab.   
What is a hobby or activity you do outside of teaching Chemistry?   
I love pop culture! I am constantly listening to music, watching movies & TV, and devouring the behind-the-scenes details of the entertainment industry. I also enjoy living in Chicago for the access to so many live events. I go to a lot of concerts (most recently Lady Gaga's Chromatica Ball at Wrigley Field) and often check out the Joffrey Ballet productions. My sister (a Northwestern MFA alum) is a professional costume and scenic designer in the Chicago area, so I see plenty of live theater through her as well.   
Where do you hope to be in your career in the next 10 years?   
I hope to still be working in chemistry education, developing as an instructor and contributing to the teaching mission of my department. I mostly work with first year students, so I want to create inclusive classes that combat the weed-out reputation that introductory chemistry courses often have. I also hope to be mentoring graduate students interested in teaching-focused careers; I benefitted so much from my teaching mentors at Northwestern and want to share that spirit with future generations of chemistry educators.  
Back to top