Staff Spotlight: Feda Jarad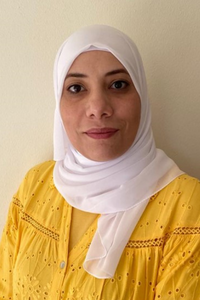 Feda Jarad is the Program Coordinator for Julia Kalow and Karl Scheidt. She is one of several newly hired staff members to the Department this year. Feda's positive attitude and strong work ethic have proven themselves valuable in fast-paced environments that require attention to detail.
What is your current position in the Department?  
Program Coordinator for Julia Kalow and Karl Scheidt 
Before working at Northwestern, what was the most unusual or interesting job you have ever had?  
I am going to give an answer that I give to similar questions. I found all my jobs interesting and enjoyable.  My career spans borders, and I've worked with people from all over the world and nearly every age group.  My job, before coming to Northwestern University, was leading COVID management teams for several Northwest suburban school districts.  I worked directly with hundreds of children and school staff every day.  It required lots of movement, quick thinking, and keeping tabs on constantly moving parts. No two days were alike, especially during peak surges when the situation got tough. I am proud to have done my part and am grateful to see that we are finally moving away from those unprecedented circumstances.  
Where are you from, and where did you grow up?  
Poet Ijeoma Umebinyou wrote a poem called 'Diaspora Blues'. Every time I am asked this question, I remember the lines, 'so, here you are; too foreign for home; too foreign for here; never enough for both'.  I am Palestinian-American, born and raised in the Chicagoland area but I lived in the UAE for nearly 12 years; repatriating to the USA a little over a year ago.  
What is your favorite vacation spot and why?  
I don't have a favorite vacation spot but I love anywhere with historical architecture, living history and gardens.  
What is a hobby or activity you do outside of work?  
Tending to my plants, reading and cooking.  
If you could meet anyone, living or dead, who would it be and why?  
Fun question!  I would love to go back in time and meet much younger self and tell her that things will work out in the end.  I would also find it fascinating if I could meet Malcom X and Frida Kahlo, both trailblazers, in their own right. 
Back to top