Student Spotlight: Ella Wang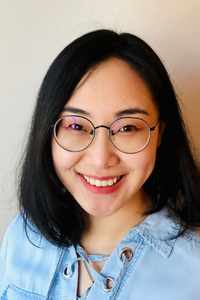 Yiran (Ella) Wang is a graduate student in the Poeppelmeier group. Ella was born and raised in Taiyuan, an ancient capital of Shanxi Province in northern China, which has more than 2,000 years of history and is famous for noodles and vinegar.  Later, Ella moved to Tianjin, a coastal metropolis on the shore of the Bohai Sea in Northern China, where she attended Nankai University and received B.S. degree in chemistry. Outside the lab, Ella enjoys watercolor painting, paper crafts and embroidery.  
What made you decide to attend Northwestern University?  
My journey to Northwestern University started in my junior year of college when I applied for research internships in the United States. I looked into several schools and Northwestern stood out for its beautiful campus and prestigious chemistry history. Moreover, purple has always been my favorite color since childhood. I applied and was accepted into the Harris lab in the chemistry department to conduct an eight-month research internship. During my internship, I met my mentor Jordan DeGayner, who was my first friend in the United States and helped me start my independent research. His open mind, critical thinking, and endless patience helped me build my confidence on research and always sparked my curiosity to learn more. During my internship, the welcoming environment and the diverse research at Northwestern appealed to me, and I decided to apply for the PhD chemistry program here.  
What has been your favorite Chemistry class and why?  
My favorite chemistry class was structural inorganic chemistry taught by Professor Tobin Marks. I have always been fascinated by the principles of inorganic chemistry and this course enhanced my understanding of them. This course built on fundamental knowledge and then extended to practical characterization techniques. The course covered extensive research areas and still benefits me in my current research project. 
Is there a professor that has made an impact on your academic career?  
It would definitely be Professor Ken Poeppelmeier. To me, Ken is more than a research advisor who taught me how to become a better scientist and teacher, he is also my friend and life mentor, who gave me kindness, care, and sincere advice. He showed me how fascinating crystals can be, trained me how to conduct good science, and taught me many valuable lessons on how work with people. He is open-minded, humble, and always likes to hear alternative opinions and learn new things. He is my model on pursuing science. 
What has been the highlight of your academic career thus far?  
Receiving the Outstanding Graduate Student Teacher award from Weinberg College and the Donald E. Smith Award for Excellence in 300-Level Teaching from Phi Lambda Upsilon were definitely the highlights of my academic career. I am honored to see my teaching efforts recognized in this way. Sharing my research with the community at MRS and ACS conferences were also highlights in my graduate school. 
How would you explain what you study to non-scientists?  
I study the design of crystals with interesting magnetic or optical properties. The properties of crystals are strongly related to their microstructures; if we want to create crystals with targeted properties, we need to understand how to pack the chemical building blocks into the ideal structures. I grow new crystals, analyze their structures, and characterize their properties to develop the underlying design principles for future functional materials. These crystals can be used in devices for data storage, quantum computing, and laser-based applications. 
Tell us more about the research you are conducting in Professor Poeppelmeier's Lab? 
My research focuses on how to understand the structure-property relationships in inorganic-organic hybrid materials and use them as design principles for future functional materials. My recent project utilizes crystal engineering to rationally design noncentrosymmetric materials. Noncenstrosymmetric materials crystalize in the absence of an inversion center and can have a lot of interesting physical properties, such as pyroelectricity, piezoelectricity, and nonlinear optical activity. These functional properties are widely used to design electric and optical devices, such as heat sensors, microphones, electronic instruments, and lasers. In our group, we use structural-directing reagents and examine the intermolecular forces to understand the key factors of breaking inversion centers in these crystalline materials. 
Back to top