Alumni Spotlight: Abdallah Diagne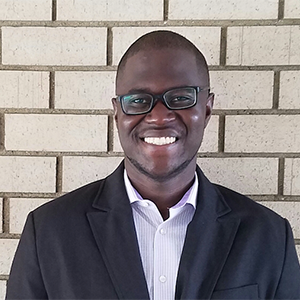 Abdallah Diagne, a 2017 Thomson alum, is a research investigator at Corteva Agriscience where he works as a member of the crop protection discovery chemistry group. Abdallah was central to the success of a new insecticide that is progressing through the Corteva Discovery pipeline. He recently won Most Promising Scientist Award at the 2022 Black Engineer of the Year Awards STEM Conference. Abdallah is an integral part of our Chemistry CARES committee, helping to promote excellence and foster community within the Department through active representation and inclusion of individuals from diverse backgrounds.
What Chemistry class / professor did you enjoy the most as an undergraduate or graduate student and why?
I very much enjoyed Karl and Regan's "Advanced Organic Chemistry" courses as a first-year graduate student. Simply put, Karl's course addressed the WHAT and the WHY of organic synthesis, a broad and deep survey of the fundamental principles of organic chemistry, and Regan's course described the HOW, the application of these principles in the strategy and tactics to enable total synthesis of important molecules. As an industry scientist, I now do this on a daily basis, and I am deeply grateful that both Karl and Regan designed their courses to specifically prepare us for the professional environment of organic chemists: how to write papers, how to navigate the literature, and more importantly, how to collaborate with others to achieve an impactful goal.
Tell us what you enjoyed the most about being a Northwestern Ph.D. student?
The world-class research, facilities, and faculty notwithstanding, the University brought together a highly diverse set of multi-talented students from all over the world and provided them with many forums and opportunities to meet each other and share their ideas and experiences. I took advantage of numerous leadership and professional development opportunities that arose as a result and learned much from my peers across the University. The Department of Chemistry also specifically embraced an identity wherein the exploration of non-traditional careers was encouraged, so I was able to sample a number of potential career paths such as consulting during my time as a graduate student. I don't believe this experience is replicated at many other peer institutions, and it something that definitely should be continued. The career panels featuring alumni with non-traditional careers were VERY valuable.
Please describe current position and research interests.
I am a Discovery Chemist at Corteva Agriscience in Indianapolis, one of the world's largest pure-play agriculture companies. In this position, I design and synthesize novel pesticides (insecticides, fungicides, or herbicides) that have excellent potency, are extremely safe to humans, mammals, and beneficial pollinators, can be synthesized on large scale in a green and sustainable manner, and deliver positive environmental benefits. The overall goal is to deliver these sustainable solutions to farmers all over the world, thereby ensuring that the ever-increasing global population can continue to be fed. My role is highly collaborative, and I intimately work with biologists, process chemists, formulations and regulatory scientists to accomplish this goal. 
 What are some potential applications for the work that you're doing?
The global population is projected to be over 9 billion by 2050, and the amount of available arable land will not commensurately increase. More people = more food and energy resources needed, and therefore this challenge must be met by ensuring we obtain the maximum possible yield for the available amount of farmland. Having an excellent crop protection system is one of the major tools we can leverage to ensure we are not losing crops to drought, insect pests, crop disease, or other causes. Good farming practices also tangibly impact other sectors of society such as green energy production from corn and other biomass.
Do you have any advice for students who'd like to go into industry?
At Northwestern you learn to conduct cutting edge fundamental science that may eventually be leveraged into useful technology. Working in industry is provides a chance to give that science a tangible and practical impact. So I would advise to keep an open mind, be introspective, and ask yourself "how can I make a difference with the skillset I have?" And your path forward will become clear. You can follow up on that clarity by either pursuing internship opportunities (if appropriate), and by conducting informational interviews with people already working in a company or sector you are interested in.
What is one thing not on your CV that you would like us to know?
I'd like to think that it is not on my CV because I haven't done it yet…I love to think critically about a wide variety of topics, on politics, culture, entertainment, sports, philosophy etc., so I fancy myself as a podcaster. I scratched the itch by jumping on [former Thomson group labmate] Johnny Varelas' movie podcast where we once did a 3-hour review of Avengers: Infinity War. I would definitely love to start my own pod someday once I have the time and resources. I already have a title picked out! 
Back to top