Staff Spotlight: Saman Shafaie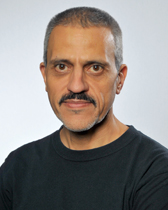 Saman Shafaie, a Mass Spectrometry Specialist in IMSERC, was an integral part of keeping the IMSERC services and MS area running during the pandemic. This was due to his tireless dedication to his role and responsibilities. This dedication and Saman's willingness to always go the extra mile resulted in him being named the 2021 Chemistry Department Employee of the Year.  
Where are you from, and where did you grow up?
I was born and grew up in Tehran, Iran. 
Tell us more about your career path at Northwestern University.
I went to school in Madison, Wisconsin. In the mid-1980s, I started working - first part-time and then full-time - in Mass Spectrometry for the State of Wisconsin on UW campus, doing mostly Environmental and Toxicology analysis by Mass spectrometry. I started at Northwestern in August of 1989, in the Analytical Services Lab (ASL), IMSERC's predecessor. I have been working in the Chemistry department in IMSERC (and ASL) since then in various capacities, primarily as a Mass Spectrometry specialist, but also working on other Analytical techniques.
What is your favorite thing about being an Analytical Instrument Specialist at Northwestern University?
I enjoy most 2 things: First, the instrumentation, its development over the decades, and leaps in technique. But most of all seeing the development of students, work studies, and colleagues in IMSERC (and in ASL previous to that). It is great when one gets to have human contact, have relationships and history with others, not just transactional interactions of samples, etc.
What are your current research interests / projects and tell us a little bit about that?
We are mostly a service and educational lab in IMSERC, but sometimes when you get into working the analytical end, the problem-solving of different research projects, that is very satisfying.
What would you do (for a career) if you weren't doing this?
Likely Design, Architecture, city, or system planning. Basically, designing and making things for people to use. 
If you could meet anyone, living or dead, who would it be and why?
Not anyone "famous". Not sure what one would get out of it. I'd rather meet again, now as an adult, family friends who were important and formative for me when I was a child: Ahmad Shamloo, a poet, who I grew up with as a child. Forough Farrokhzad, a poetess, filmmaker and pioneer woman in Iran, and a family friend who died too young for me to know. Or maybe just my parents when they were in their 20's, circa 1950. That could shed a light on oneself.