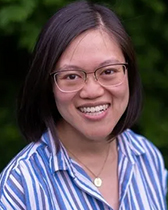 Alumni Spotlight: Brittany Trang
Brittany Trang, a recent graduate of the Dichtel  Group, is a Begley Science Reporting Fellow at Stat News. Prior to graduation, she completed a thesis detailing a low-cost, highly effective method for destroying PFAS ("forever chemicals "). Her work with STAT News focuses on reporting groundbreaking health and medicine research. 
You were in Will Dichtel's group while at NU, what was your favorite part about the group?
My favorite part about the group was the people. My colleagues were kind and collaborative, I learned a lot from them, and they made grad school fun (at times!) I was also fortunate that Will is a supportive advisor that I really trust, which made my grad school experience good.
Your research on PFAS was widely featured in the news this past fall. What was that experience like?
It was surprising, especially after spending two years doing all the frustrating and unglamorous things that research required. Because I was starting my new job as a reporter that same week and wanted to learn from the experience of being interviewed, the day before the press release went out, I asked Will to send at least one first-author interview opportunity my way if there were any, though we agreed it was unlikely.
Those turned out to be famous last words. I fortunately had many, many opportunities to learn from media coverage of my own work in many different mediums.
How did your time in the Department shape you? How has it inspired your current work?
I had many good and bad experiences in the department that have shaped my approach to my current work, but one that stands out is that I was greatly troubled by the lack of diversity in the department faculty both during and after my time in the department. However, it was great to know halfway through my PhD that the chemistry department CARES through its formation of the new diversity and inclusion committee. The 80% male and 0% Black core faculty is a hard thing to change, but I look forward to seeing the new diversity and inclusion committee tackle changing the department climate, community, accountability, recruitment, representation, retention, education, support, and advocacy (CARES).
As I write about science and medicine, my experiences have inspired me to examine the bias toward name-brand institutions, to examine the conditions that select which kinds of people survive and succeed in academia and science, and to question the incentive–reward system for both grad students, faculty, and institutions in scientific research.
What shifted your focus from working in a lab to the valuable work of writing about scientific work (or was that always the plan)?
My focus didn't really shift; I accidentally took my chemistry and English double-major to the extreme and ended up very qualified for both career paths at the end of my PhD. I took the TGS 517 "Skills & Careers in Science Writing" class with Prof. Patti Wolter at Medill, interned at the Milwaukee Journal Sentinel for a summer through the AAAS Mass Media Fellowship, and freelanced throughout grad school. 
At the end of my degree, when I needed to decide about whether I was going to do a postdoc or become a journalist, I ended up tipping the scales toward my lifelong dream of being a writer. Becoming a science journalist ultimately seemed like the most valuable intersection of my talents and interests.
Is there any advice you could give current Department students?
I've talked about some of my grad school advice in various essays before, but one thing I would add is that there are a lot more jobs out there besides academia and industry, and they aren't really advertised well in grad school. I would highly recommend seeking out panels and workshops about other careers (technical consulting, business consulting, science policy, science journalism/communication, national lab, tech transfer, patent agent, museum conservators or educators, government research roles, etc.) through social media, PLU, or NU's Career Advancement; finding someone who does something you're interested in; and setting up informational interviews to figure out how they got there and what they do.
What is a hobby or activity you do outside of writing?
Outside of writing, I am currently on a quest through the thrift shops of the world to create a wardrobe exclusively made of pants/dresses/skirts with good pockets. There are no logical reasons why women's clothes do not have functional pockets, and I need them!
Where do you hope to be in your career in the next 10 years?
In ten years, I hope to be employed in a job that I enjoy. (To make this possible, support local news and subscribe to news publications! Like the Washington Post says, "Democracy Dies in Darkness.")
Back to top