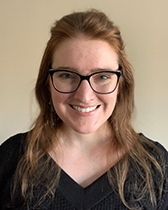 Staff Spotlight: Maggie Hays
Maggie Hays is a Research Administrator who joined the Department of Chemistry in 2021 after working in a similar role in WCAS.  A Northwestern Graduate, Maggie is a consummate professional who thrives in situations which require the understanding of complex processes.  Her work gives administrative structure, training, and expertise to our world-class researchers.
Tell us about what you do in your current position in the Department? 
I am a Research Administrator in the Department of Chemistry. I work on proposals, award management, and post-award for a portfolio of faculty members.
Before working at Northwestern, what was the most unusual or interesting job you have ever had? 
I wouldn't say any of the jobs I had before Northwestern were that unusual. I babysat, I was a camp counselor, and I did internships at companies and non-profits before I got my first job at Northwestern as a Grants Assistant in the Office for Sponsored Research. I would say the most interesting job I had was as a barista at Starbucks, mostly because you encounter people from all walks of life. And some drink orders are highly unusual. I once saw an iced caramel macchiato that was basically a cup full of the caramel syrup with a splash of milk and espresso and it was a bit sickening.
Where are you from, and where did you grow up? 
I currently live in Evanston and have since I was 18, but I grew up in three different places – Glencoe, Illinois until I was five, Tiburon, California (a suburb just north of San Francisco, directly across the Bay) until I was 12, and Houston, Texas from seventh grade through high school. My family moved around due to my dad's job. The three cities could not be more different from each other, and I'm grateful I got the opportunity to live in each place. 
What is your favorite vacation spot and why? 
It's hard to pick! I've had some amazing and memorable vacations. I do love Disney so any time I've been to either Disney Land or World have been extremely fun. I've been to Hawaii five times and it's worth the hype. An absolute paradise. But this past summer I took a trip with my parents and family friends to Ireland. It was my first time in the country, and not only did I watch the Northwestern football team beat Nebraska, I got to tour the southern part of the country. We visited Dublin, saw the Book of Kells at Trinity College, toured Cork, Kerry, Mayo, and Galway counties, visited the Aran Islands, and ate some amazing food.
What is a hobby or activity you do outside of work? 
These days my outside hobbies mostly center around my dog, Kyla – playing with her, walking her (I get to see more neighborhoods in the area that way), and taking her on trips in the car. When we're both chilling on the couch together I'm either watching something on a streaming app or reading. Right now, I'm working on finishing a book that was a gift from my late grandmother about the making of Casablanca. She and I had a very similar love for movies.
If you could meet anyone, living or dead, who would it be and why? 
I have one for each. The dead person I'd want to meet is Fred Rogers. I watched Mister Rogers' Neighborhood as a child, and as an adult I watched the documentary Won't You Be My Neighbor? and what a remarkable man. I would have loved to meet him and learn as much about him as a person as I could. The living person I want to meet is Kevin Feige. He's the President of Marvel Studios and oversees all the Marvel movies, and I'm a big fan of them. If I met him, I'd ask so many questions about what's coming up in the next Phases of the MCU, but I doubt he'd tell me anything. He's very, very adept at side-stepping any spoilers.
Back to top