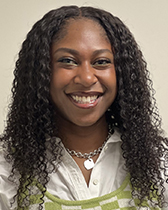 Student Spotlight: Brittney Williams
Brittney Williams is a 5th year graduate student in the Gianneschi group studying drug formulation and solubility. A native of Cincinnati, her career goals after graduation include working as a Medical Science Liaison and Consultant. She is a 2018 GEM Associate Ph.D. Fellow.
What made you decide to attend Northwestern University? 
I really enjoyed my visit to the campus and the opportunities I would have while here. During my visit, I saw how I could use my time in graduate school to challenge myself and learn new chemistry techniques that I wouldn't be able to elsewhere. I remember telling someone that I wanted to challenge myself and I felt like I could do that at Northwestern. It doesn't hurt that I also love the city of Chicago.
What has been your favorite Chemistry class and why? 
Drug Design and Action with Professor Silverman has been my favorite Chemistry class. I have always had a fascination with medicinal chemistry so being able to learn the chemical basis behind designing a drug from lead discovery all the way to clinical testing. This class really opened my eyes to all the different ways you can be involved in the drug development pathway.
Is there a professor that has made an impact on your academic career? 
Teachers and professors have always been extremely influential in my academic career. My main motivation for going into chemistry was because my 4th grade teacher, Ms. Mellea, had a PhD in chemical engineering and made chemistry seem both fun and an accessible career. My undergraduate research advisor, Professor Marcia Kieliszewski, was always supportive and such a kind face that I relate to chemistry. As the first person I researched for, she allowed me to take a risk and do a project completely unrelated to her original research. Her guidance and support taught me how to be an independent researcher and to always be willing to take a risk in research.
What has been the highlight of your academic career thus far? 
Getting to know Jonathan Maendel, Madison Schell, and Malenis Holloway in the graduate program office has been one of the greatest parts of Northwestern. I have enjoyed being able to work with them with GLC and during visit weekends. I was also able to begin volunteering with The Bloc, a kids enrichment center that utilizes boxing as a way to channel their energy. I learned of it from a former project scientist in the Gianneschi lab and began working with them at the beginning of this year. I have been able to combine my love of chemistry and science outreach with my love of fitness.
How would you explain what you study to non-scientists? 
My dad describes my research really well, so I asked him (a non-scientist) to explain what I study. "Ways to improve the delivery methods for medicine and other health items through increasing the solubility of the delivery device. Such as tricking the body normal defense to think it is not a threat like a fatty acid."
Tell us more about the research you are conducting in Professor Gianneschi's Lab?
In Professor Gianneschi's lab, my research focuses on water-solubility platforms for hydrophobic, lipidated prodrugs. I am currently working on a solubility platform for a lipidated chemotherapeutic, 1,18-octadecanedioic acid-Paclitaxel. We recently submitted an invention disclosure on the material and are working to begin animal studies soon. This aqueous formulation allows for the delivery of the drug to the target without the need for formulation with the protein, albumin.
Back to top