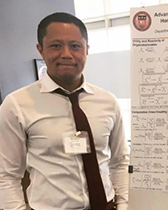 Teaching Faculty Spotlight: Mark Aparece
Mark D. Aparece is an Assistant Professor of Instruction in the Department who joined the Department in Fall 2022. Mark earned both his B.S. and M.S. degrees in Chemistry at DePaul University and spent a year as a visiting lecturer at Loyola University Chicago teaching Organic Chemistry and Chemistry for Nursing Students. In 2015, he moved to Massachusetts to pursue a Ph.D. in Organic Chemistry at Boston College. After earning his doctorate in 2020 (and defending his thesis over Zoom!), Mark spent two years as an Assistant Teaching Professor at Northeastern University in Boston before moving back to Chicago in the summer of 2022 to teach at Northwestern.
What drew you to teaching Organic Chemistry? 
I have always found the mechanisms of organic reactions extremely logical and elegant. Once I realized that chemistry follows a consistent, logical set of rules and patterns, the possibilities seemed endless. The rules of chemical reactions allow scientists to not only ascertain the mechanisms behind never-before-seen transformations but also to develop novel chemical reactions. These rules also underpin the operations of metabolic pathways and drive the discovery of new drugs. The mechanisms of organic chemistry made me fall in love with the subject, and I hope to convey this same passion and sense of appreciation to the next generation of scientists, engineers, and medical professionals. 
Before coming to NU in fall 2022 you were teaching in Boston. What is something you appreciated about your time in Boston?
I grew a lot in Boston. Moving to the East Coast from the Midwest was a huge step outside my comfort zone but being away from my home and loved ones for a time forced me to focus on my education. Being in a new, demanding environment surrounded by talented, driven peers and mentors at Boston College inspired me to work hard and to learn as much as I could during grad school. Starting my independent career at Northeastern University was an invaluable opportunity to develop my teaching style, explore new methods of instruction and assessment, and cultivate my philosophy of education. I am excited to continue my development here at Northwestern! 
Also, while I was in grad school, I discovered how much I love running and being active, and I would go on long walks, runs, and bike rides when everything was closed during the first year of the pandemic. I "accidentally" ran my first half-marathon on Thanksgiving 2020 (I couldn't gather with friends during lockdown, so why not just… run?), and two days later, a friend and I rode 100 km on our bikes in the suburbs of Boston. I have since brought this outdoorsy mindset back to Chicago: by opting to go on long walks rather than take public transit, I have found that my eyes are opened to things I have never seen or appreciated before. Chicago is almost like a brand-new city to me, and I would not have had this newfound appreciation for my hometown had I never moved away. 
What Chemistry class / professor did you enjoy the most as an undergraduate or graduate student and how did that inspire your teaching? 
Dr. M. Dintzner, my organic chemistry professor at DePaul, was a crucial figure in my becoming an organic chemistry professor myself. Dr. D never shied away from describing the hows and whys behind each chemical transformation, even if, at times, we students found it dense and arcane. Dr. D's combination of being academically rigorous while also being supportive of each student continues to inspire me to this day.
What is something that inspires you in the current students you teach? 
I am privileged to have had bright, curious, motivated students in my many years of teaching. I am of the opinion that we should never "dumb down" our classes because our students are not dumb. They can accomplish amazing things if we hold them to high standards while also provide guidance, encouragement, and support. I have had students anticipate the next thing I am about to discuss in lecture, make connections between seemingly disparate topics (remember, in organic chemistry, there are only a few rules but many incarnations of these rules), and provide new insights I had never considered before. I don't want my students to be memorizers and regurgitators; I want them to be thinkers and synthesizers, and the growth I have seen in my students both in and out of the classroom has been a continual source of inspiration and motivation for me.
What advice do you have for young chemists interested in a career in academia? 
For my first piece of advice, I will paraphrase Prof. Jim Morken, my Ph.D. advisor: "Read, read, read! Read and learn as much as you can. You can always tell when somebody knows their stuff." In my youth, I was made to feel ashamed for "knowing too much." There is no such thing. If you want to make innovations in any field, you must have both deep and broad knowledge about that field.
For my second piece of advice, I will paraphrase Prof. Franziska Schoenebeck when she was a 2019 Women in Chemistry panelist at Boston College: "When doing something for the first time, you will never feel ready, so do it anyway." Prepare as best as you can, make contingency plans, and know that, sometimes, things can and will go wrong. Jump in, learn what works and what doesn't, and adapt for the future.
Can you tell us something not on your CV that you would like us to know? 
I am a classically trained musician and a composer of primarily sacred choral music. I have played the viola for 20 years, sing tenor/baritone, and have had the honor of having my original compositions used in liturgical contexts in Chicago parish churches.
Back to top