Julia Kalow
Assistant Professor
B.A: Columbia University 2008; Ph.D: Princeton University 2013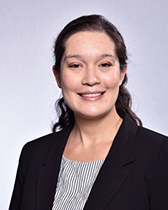 Research Statement
The Kalow group engages in research at the interface of organic synthesis, polymer chemistry, and materials science through two distinct approaches: materials-inspired reaction discovery and reactivity-driven materials discovery. In the first, we develop new synthetic transformations that provide control over the molecular structure of 1- and 2-dimensional organic polymers. In the second, we use our knowledge of organic reactivity to tune the properties and functions of soft materials. These efforts enable the study of structure-property relationships and materials optimization for targeted applications, including optoelectronics, sustainable polymers, and biomaterials. Projects in the Kalow lab provide trainees with experience in method development, polymer synthesis, mechanistic analysis, and materials characterization and testing.
Selected Publications
 El-Zaatari, B. M.; Ishibashi, J. S. A.; Kalow, J. A. "Cross-linker control of vitrimer flow." Polym. Chem., 2020, DOI:10.1039/D0PY00233J.
Woods, E. F.; Berl, A. J.; Kalow, J. A. "Photocontrolled synthesis of n-type conjugated polymers." Angew. Chem. Int. Ed., 2020, 59, 6062–6067.
Accardo, J. V.; Kalow, J. A. "Reversibly tuning hydrogel stiffness through photocontrolled dynamic covalent crosslinks." Chem. Sci., 2018, 9, 5987–5993.
Ishibashi, J. S. A.; Kalow, J. A. "Vitrimeric silicone elastomers enabled by dynamic Meldrum's acid-derived crosslinks." ACS Macro Lett., 2018, 7, 482–486.
Wang, X.; Kalow, J. A. "Rapid aqueous photouncaging by red light." Org. Lett. 2018, 20, 1716–1719. 
Selected Honors/Awards
Arthur K. Doolittle Award, 2019
NSF CAREER Award, 2019
PMSE Young Investigator, 2019
3M Non-Tenured Faculty Award, 2018
Thieme Chemistry Journal Award, 2018
Young Investigator Award, Air Force Office of Scientific Research, 2017
Back to top