Monica Olvera de la Cruz
Professor
Ph.D. Physics, Cambridge University, Cambridge, England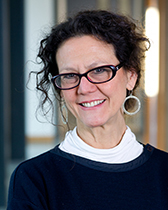 (847) 491-7801
Silverman 4621
Affiliations
Lawyer Taylor Professor of Materials Science and Engineering
Chemistry and (by courtesy) Physics and Astronomy and Chemical and Biological Engineering
Chemistry of Life Processes Institute (CLP)
Research Interests
Olvera de la Cruz develops theoretical models to determine the conformation, organization and dynamics of macromolecules in complex environments including multicomponent solutions of heterogeneous synthetic and biological molecules, and molecular electrolytes. Her group design functional nano-structured materials by developing algorithms to describe the organization of amphiphiles, copolymers and polyelectrolytes into fibers, gels, membranes and crystals. They analyze interfaces in complex fluids and identify their relevance to biology and to biomimetic functions.  
Selected Publications
Brian Panganiban, Baofu Qiao, Tao Jiang, Christopher DelRe, Mona M. Obadia, Trung Dac Nguyen, Anton A. A. Smith, Aaron Hall, Izaac Sit, Marquise G. Crosby, Patrick B. Dennis, Eric Drockenmuller, Monica Olvera de la Cruz & Ting Xu, Random heteropolymers preserve protein function in foreign environments. Science 359, 1239 (2018)
Boran Ma, Trung Dac Nguyen, Victor A. Pryamitsyn, & Monica Olvera de la Cruz, Ionic correlations in random ionomers. Acs Nano 12 , 2311–2318 (2018)
 Yaohua Li, Martin Girard, Meng Shen, Jaime Andres Millan and Monica Olvera de la Cruz, Strong Attractions and Repulsions Mediated by Monovalent Salts. PNAS 114, 11838-11843 (2017)
Martin Girard, Trung Dac Nguyen, and Monica Olvera de la Cruz, Orbitals for classical arbitrary anisotropic colloidal potentials. Physical Review E 96, 053309 (2017)
Meng Shen, Honghao Li, and Monica Olvera de la Cruz, Surface polarization effects on ion-containing emulsions. Physical Review Letters 119, 138002 (2017)
Joshua McCellan Dempster, Pablo Vazquez-Montejo and Monica Olvera de la Cruz, Contractile actuation and dynamical gel assembly of paramagnetic filaments in fast precessing fields. Physical Review E, Phys. Rev. E 95, 052606 (2017).
Changrui Gao, Honghao Li, Yue Li, Sumit Kewalramani, Liam C. Palmer, Vinayak P. Dravid, Samuel I. Stupp, Monica Olvera de la Cruz, and Michael J. Bedzyk, Electrostatic Control of Polymorphism in Charged Amphiphile Assemblies. Journal of Physical Chemistry B 121(7):1623-1628 (2017).
Honghao Li, Aykut Erbas, Jos Zwanikken and Monica Olvera de la Cruz, Ionic Conductivity in Polyelectrolyte Hydrogels. Macromolecules, 49, 9239-9246 (2016)
Guillermo I. Guerrero-Garcia, Francisco J. Solis, Kalyan Raidongia, Andrew R. Koltonow, Jiaxing X. Huang, Monica Olvera de la Cruz, Control of Selective Ion Transfer across Liquid-Liquid Interfaces: A Rectifying Heterojunction Based on Immiscible Electrolytes. ACS Central Science, 2, 11, 857-866 (2016)
Yufei Jing, Vikram Jadhao, Jos W. Zwanikken and Monica Olvera de la Cruz, Ionic Structure in Liquids Confined by Dielectric Interfaces. J. Chem. Phys. 143, 194508 (2015)
Baofu Qiao, Geoffroy Ferru, Monica Olvera de la Cruz, and Ross J. Ellis, Molecular Origins of Mesoscale Ordering in a Metalloamphiphile Phase. ACS Central Science 1, 493 (2015)
Evelyn Auyeung, Ting I. N. G. Li, Andrew J. Senesi, Abrin L. Schmucker, Bridget C. Pals, Monica Olvera de la Cruz, and Chad A. Mirkin, DNA-mediated nanoparticle crystallization into Wulff polyhedra. Nature 505, 73–77 (2014)
Charles E. Sing, Jos W. Zwanikken and Monica Olvera de la Cruz, Electrostatic control of block copolymer morphology. Nature Materials 13, 694 (2014)
Significant Recognition
National Institutes of Health FIRST Award, 1988–93
David and Lucille Packard Fellowship for Science and Engineering, 1989–94
Alfred P. Sloan Fellowship, 1990–92
NSF Presidential Young Investigator Award, 1990–95
Fellow of the American Physical Society, 2001
Engineering and Applied Sciences Cozzarelli Prize, Proceeding of the National Academies, National Academies, 2007
2010 American Academy of Arts and Sciences Fellow
2010-2015 National Security Science and Engineering Faculty Fellowship
2012 Elected member of the National Academy of Sciences
2013 Distinguished Lecturer, Mathematical Physical Sciences Directorate, National Science Foundation
2015 Miller Institute Visiting Professor
2017 Polymer Physics Prize, American Physical Society
2020 Member, American Philosophical Society
2023-2024 William H. Schwarz Lecturer, John Hopkins University
Significant Professional Service
Scientific Member, Commissariat a l'Énergie Atomique (CE-SACLAY), 1995-97
Scientific Visitor, Service de Physique Théorique, CE-SACLAY, France, 2003
Baetjer Lecturer, Princeton University, 2005
Advisory Committee, NSF Mathematical and Physical Sciences Directorate, 2005-09
Solid State Science Committee, National Research Council, 2006-08
Research at the Intersection of Physical and Life Sciences Committee, National Research Council, National Academies, 2007-09
Editorial Board of Macromolecules, Journal of Polymer Science B: Polymer Physics
Vice-chair, Condensed Matter and Materials Research Committee, National Research Council, 2008-10
Chair, Advisory Committee, NSF Division of Materials Research, 2007-09
Member, National Research Council Board of Physics and Astronomy
Chair, Condensed Matter and Materials Research Committee, National Research Council, 2010-12
Basic Energy Sciences Advisory Committee, Department of Energy, 2013-2015
Senior Editor, ACS Central Science, American Chemical Society
Back to top