Nathan Gianneschi
Professor
B.Sc.: University of Adelaide
Ph.D.: Northwestern University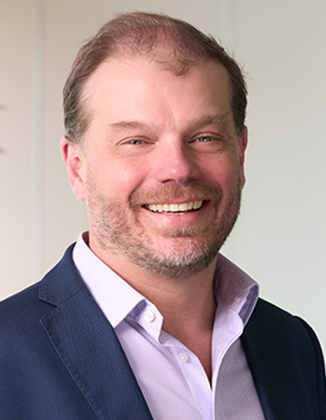 Affiliations
Jacob & Rosaline Cohn Professor of Chemistry
Department of Materials Science and Engineering
Department of Biomedical Engineering
Chemistry of Life Processes Institute (CLP)
Research Statement
The Chemistry and Biology of Nanomaterials
The Gianneschi group is an interdisciplinary team of chemists, engineers, materials scientists, physicists and biologists focused on fundamental and translational research into biomaterials, polymers, nanomaterials, in situ electron microscopy, biomimicry, therapeutics, diagnostics and novel functional materials.
Selected Publications
Review:
Cassandra Callmann, Matthew Thompson, Nathan Gianneschi.* "Poly(peptide): Synthesis, Structure, and Function of Peptide-Polymer Amphiphiles and Protein-like Polymers" Accounts of Chemical Research, 2020. 53 (2) 400-413. DOI: 10.1021/acs.accounts.9b00518.
Nanoscopy:

Jiafei Lyu, Xinyi Gong, Seung-Joon Lee, Karthikeyan Gnanasekaran, Xuan Zhang, Megan Wasson, Xingjie Wang, Peng Bai, Xianghai Guo, Nathan Gianneschi, Omar Farha. "Phase Transitions in Metal-Organic Frameworks Directly Monitored through In Situ Variable Temperature Liquid-Cell Transmission Electron Microscopy and In Situ X-Ray Diffraction" Journal of the American Chemical Society, 2020. Accepted.
Touve, M.A.; Carlini, A.S.; Gianneschi, N. "Self-Assembling Peptides Imaged by Correlated Liquid Cell Transmission Electron Microscopy and MALDI-Imaging Mass Spectrometry" Nature Communications, 2019, 10, 4837 DOI:  10.1038/s41467-019-12660-1
Vailonis, K.; Gnanasekaran, K.; Powers, X.; Gianneschi, N.C.; Jenkins, D. "Elucidating the Growth of Metal Organic Nanotubes Combining Isoreticular Synthesis with Liquid Cell TEM" J. Am. Chem. Soc., 2019, 141, 10177-10182 DOI:  10.1021/jacs.9b04586
Touve, M.A.; Wright, D.B.; Mu, C.; Sun, H.; Park, C.; Gianneschi, N.C. "Block Copolymer Amphiphile Phase Diagrams by High-Throughput Transmission Electron Microscopy" Macromolecules, 2019 DOI: 10.1021/acs.macromol.9b00563
Xuhao Zhou, Naneki C. McCallum, Ziying Hu, Wei Cao, Karthikeyan Gnanasekaran, Yuanning Feng, J. Fraser Stoddart, Zhao Wang, Nathan Gianneschi. ACS Nano, 2019. DOI: 10.1021/acsnano.9b02160.
Parent, L. R.; Onofrei, D.; Xue, D.; Stengeld, D.; Roehlingg, J. D.; Addisond, J. B.; Forman, C.; Amine, S. A.; Cherrye, B. R.; Yargere, J. L.; Gianneschi, N. C.; Holland, G. P. "Hierarchical Siproin Micellar Nanoparticles as the Fundamental Precursors of Spider Silks" Proc. Natl. Acad. Sci., 2018, In Press, DOI: 10.1073/pnas.1810203115
Soft Matter:
Claudia Battistella, Naneki C. McCallum, Karthikeyan Gnanasekaran, Xuhao Zhou, Valeria Caponetti, Marco Montalti, Nathan C. Gianneschi. "Mimicking Natural Human Hair Pigmentation with Synthetic Melanin" ACS Central Science, 2020. DOI: 10.1021/acscentsci.0c00068
Hao Sun, Wonmin Choi, Nanzhi Zang, Claudia Battistella, Matthew P. Thompson, Wei Cao, Xuhao Zhou, Christopher Forman, Nathan Gianneschi. "Bioactive Peptide Brush Polymers via Photoinduced Reversible-Deactivation Radical Polymerization" Angewandte Chemie, 2019, 58, 2-8. DOI:10.1002/ange.201908634
Zhou, X.; McCallum, N.C.; Hu, Z.; Cao, W.; Gnanaekaran, K.; Feng, Y.; Stoddart, J.F.; Wang, Z.; Gianneschi, N. "Artificial Allomelanin Nanoparticles" ACS Nano, 2019 DOI:  10.1021/acsnano.9Bb02160
Wright, D. B.; Touve, M. A.; Thompson, M. P.; Gianneschi, N. C. "Aqueous-Phase Ring Opening Metathesis Polymerization-Induced Self-Assembly" ACS Macro Letters 2018, 7, 401-405. DOI: 10.1021/acsmacrolett.8b00091
Biomedicine: 

Nanzhi Zang, John B. Issa, Treffly B. Ditri, Dante S. Bortone, Mollie A. Touve, Anthony M. Rush, Massimo Scanziani, Daniel A. Dombeck, Nathan C. Gianneschi. "Multicolor Polymeric Nanoparticle Neuronal Tracers" ACS Central Science, 2020. DOI:1 0.1021/acscentsci.0c00027
Callmann, C.E.; LaGuyader, C.L.M.; Burton, S.T.; Thompson, M.T.; Hennis, R.; Barback, C.; Henriksen, N.M.; Chan, W.C.; Jaremko, M.J.; Yang, J.; Garcia, A.; Burkart, M.D.; Gilson, M.K.; Momper, J.D.; Bertin, P.A.; Gianneschi, N.C. "Antitumor Activity of 1,18-Octadecanedioic Acid-Paclitaxel Complexed with Human Serum Albumin" J. Am.Chem. Soc., 2019 DOI: 10.1021/jacs.9b04272
Battistella, C.; Callmann, C. E.; Thompson, M.P.; Yao, S.; Yeldandi, A.V.; Hayashi, T.; Carson, D.A.; Gianneschi, N.C. "Delivery of Immunotherapeutic Nanoparticles to Tumors via Enzyme-Directed Assembly" Advanced Healthcare Materials, 2019, 1901105 DOI:  10.1002/adhm.201901105
Carlini, A.S.; Gaetani, R., Braden, R.L.; Luo, C.; Christman, K.L.; Gianneschi, N.C. "Enzyme-Responsive Progelator Cyclic Peptides for minimally Invasive Delivery to the Heart Post-Myocardial Infarction" Nature Communications, 2019, 10, 1735 DOI: 10.1038/s41467-019-09587-y
Selected Honors/Awards
2020    Elected to the American Institute for Medical and Biological Engineering (AIMBE)
2017    Finalist, Blavatnik Young Scientist Award
2016    Tianfu Distinguished Lecturer in Polymer Science and Engineering, Sichuan University
2016    Fellow of the Royal Society of Chemistry
2015    Outstanding Young Scientist Award, ACS Applied Materials & Interfaces, PAT 2015
2014    UC San Diego Chancellor's Award for Excellence in Postdoctoral Scholar Mentoring
2013    Kavli Fellow of the National Academy of Sciences
2012    NIH Director's Transformative Research Award
2012    Alfred P. Sloan Foundation Fellow
2011    NIH Director's New Innovator Award
2011    UC San Diego Panhellenic Outstanding Professor Award
2009    Presidential Early Career Award for Scientists and Engineers (PECASE) – DOD AFOSR
2008    Camille & Henry Dreyfus Foundation New Faculty Award