SonBinh T. Nguyen
Professor
B.S.: Pennsylvania State University (with Prof. Gregory L. Geoffroy) 1990
Ph.D.: California Institute of Technology (with Professors Robert H. Grubbs and Nathan S. Lewis) 1995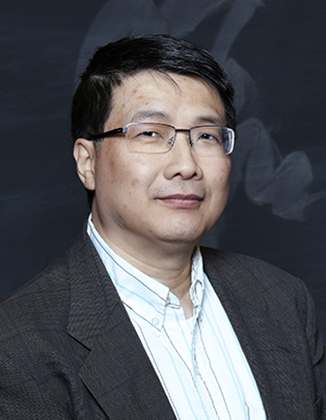 Affiliations
Professor of Teaching Excellence
Research Statement
Our research encompasses three divisions in chemical science: inorganic/organometallic chemistry, organic synthesis, and polymer science. We are also interested in environmental friendly catalysis and biomaterials.
Selected Publications
"(Salen)Chromium(III)/DMAP: An Efficient Catalyst System for the Selective Synthesis of 5-Substituted Oxazolidinones from Carbon Dioxide and Aziridines" Miller, A. W.; Nguyen, S. T. Org. Lett. 2004, 6, 2301-2304.
"Thermal, Optical, and Electrochromic Properties of Cross-Linked Poly((2-terthiophenyl)norbornene"Stepp, B. R.; Nguyen, S. T. Macromolecules 2004, 37, 8222-8229.
"The Mechanism of Aluminum-Catalyzed MSPV Reduction of Carbonyls to Alcohols" Cohen, R.; Graves, C. R.; Nguyen, S. T.; Martin, J. M. L., Ratner, M. A. J. Am. Chem. Soc. 2004, 126, 14796-14803.
"Axial Ligand Effects: Utilization of Chiral Sulfoxide Additives for the Induction of Asymmetry in (Salen)Ru(II) Olefin Cyclopropanation Catalysts" Miller, J. A.; Gross, B. A.; Zhuravel, M. A.; Jin, W.; Nguyen, S. T. Angew. Chem., Intl. Ed. Engl. 2005, 44, 3885-3889.
"DNA-Block Copolymer Conjugates As Electrochemical Probes for the Detection of DNA" Gibbs, J. M.; Park, S. J.; Anderson, D. R.; Watson, K. J.; Mirkin, C. A.; Nguyen, S. T. J. Am. Chem. Soc., 2005, 127, 1170-1178.
"Alternating Copolymerization of CO2 and Propylene Oxide Catalyzed by CoIII(Salen)/Lewis base"Paddock, R. L.; Nguyen, S. T. Macromolecules 2005, 38, 6251-6253.
"High-density Doxorubicin-conjugated Polymeric Nanoparticles via Ring-opening Metathesis Polymerization" Bertin, P. A.; Smith, D.; Nguyen, S. T. Chem. Commun., 2005, 3793-3795.
Selected Honors/Awards
Appointed McCormick Professor of Teaching Excellence (2005)
CAURS Award for Outstanding Support of Undergraduate Research (2005)
ASG Faculty/Administrator Honor Roll (2005, 2004, and 2003)
Appointed Dow Research Professor (2004)
Weinberg Award for Distnguished Teaching (2003 and 2002)
Alfred P. Sloan Research Fellow (2001)
National Science Foundation CAREER Award (2000)
Presidential Early Career Award for Scientists and Engineers (2000)
Union Carbide Innovation Recognition Award (1999)
David and Lucille Packard Fellowship for Science and Engineering (1997)