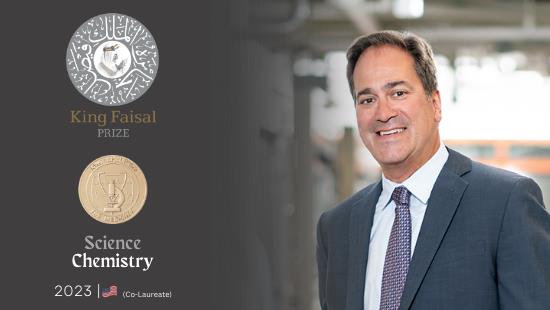 Chad Mirkin receives King Faisal Prize for work in chemistry
January 4, 2023
The King Faisal Foundation has awarded Northwestern University professor Chad A. Mirkin the 2023 King Faisal Prize (KFP) in Medicine and Science for his work in chemistry.
Established in 1979 by the King Faisal Foundation and named after Faisal bin Abdulaziz, the KFP is a merit-based award honoring those whose work "contributes to the enrichment of knowledge for the development of humanity." Laureates are selected by specialized selection committees of more than 40 specialists, scientists and public figures from 26 different countries. Announced by His Royal Highness Prince Khalid Bin Faisal Bin Abdulaziz, chairman of King Faisal Prize Board, Mirkin is honored for his contributions to nanochemistry, specifically the discovery and development of spherical nucleic acids (SNAs). 
"This award is a tremendous honor for Professor Mirkin and for Northwestern," said Northwestern President Michael Schill. "It recognizes Mirkin's groundbreaking work in nanotechnology, where he has established Northwestern as a leader in the field. His research has significantly advanced the field in nanochemistry worldwide and has wide-ranging benefits in many scientific and medical fields." 
Back to top