Alumna Spotlight: Christy L. Haynes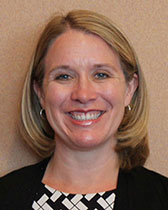 By Irena Garic
Professor Haynes completed her undergraduate work at Macalester College in St. Paul, MN (1998) with a major in Chemistry and minors in Mathematics and Spanish. Her doctoral work was done at Northwestern University in Evanston, IL (2003) under the direction of Richard P. Van Duyne. Her doctoral thesis title is "Fundamentals and Applications of Nanoparticle Optics and Surface-Enhanced Raman Scattering." While at Northwestern, she was recognized with a Northwestern University Presidential Fellowship, the Materials Research Society Graduate Student Gold Award, the Victor K. LaMer Award from the American Chemical Society Division of Colloid and Surface Science, and Nobel Laureate Signature Award for Graduate Education in Chemistry from the American Chemical Society, among others. Before arriving at the University of Minnesota to start her independent career, Professor Haynes performed postdoctoral research in the laboratory of R. Mark Wightman at the University of North Carolina, Chapel Hill as an NIH NRSA Postdoctoral Fellow. Her efforts in the Wightman lab focused on applying microelectrode amperometry to probe single cell exocytosis. Visit her University of Minnesota research group's website. Other social media links include: Twitter, Instagram, and Facebook.
What made you choose Northwestern for your Chemistry Ph.D. Program?
When I visited during recruiting weekend, I left feeling like I would be excited to work for any of the faculty I had met with that day (and that wasn't how I felt about other visits I'd made). Also, the NU graduate students who I met during my visit weekend seemed happy (also not true everywhere). Finally, Northwestern seemed very invested in interdisciplinary work (these were the early days of large research centers), and this excited me because I wanted to do chemistry that would make a difference.
What's your favorite memory of your time at Northwestern? 
It's very hard to choose one memory. I remember my graduate school years as one of the best times of my life. I made great friends both within my research group and outside. I was super inspired by all the science I was learning and doing. I was traveling to conferences to share my work (my first international trip ever was during my second year of graduate school) and meeting people from all over the world. I was really productive, but most of the time, it didn't even feel like I was working. I have great scientific memories from days when we I finally got a hard experiment to work or we found out a paper I worked hard on was accepted. I have great social memories like when friends and I organized an on-campus 5K called the "Adrenaline Rush" to raise money to support Chemistry graduate students.
What class experience / professor had the most impact on your academic / professional career?
That's easy – my Ph.D. advisor, Professor Richard P. Van Duyne. Rick was a scientist with big ideas and a big heart. Unfortunately, he passed away last July, and this is a huge loss for me and the chemistry community. He believed in me when I was in the midst of imposter syndrome and opened many doors for me. I absolutely would not be doing all of the amazing things I get to do every day without Rick's influence and support. That said, I was always impressed with how much support I received (and continue to receive) from other NU chemistry faculty beyond Rick.
What are your current research interests / projects and tells us a little bit about that?
My current research interests are pretty broad, spanning from medicine to the environment. My group tackles analytical and materials chemistry challenges in complex systems. One example is our work to design nanomaterials that will transform controllably to deliver critical micronutrients to plants that will help overcome crop disease that contributes to our global food crisis. Another example is our work to design polymer-enabled sensing platforms to detect mycotoxins and pathogenic bacteria. A third example is our single-cell studies to understand the role that blood platelets play in the pathogenesis of malaria. My research group is problem-driven and fearless about developing and using new tools and methods. We're also highly collaborative, working to have as broad an impact as possible.
What has your experience been being a woman in STEM; Do you have any advice you'd like to give for the younger generation of female STEM students?  
I feel like it's a great time to be a woman in STEM because society has come a long way in understanding why diversity is important to maximize innovation. I never intended to spend as much of my energy as I do advocating for diversity in STEM, but I feel a responsibility to do so because I have a platform that allows me to. That doesn't mean that I haven't come up against bias (unconscious or explicit) or misogyny, but I've always been able to find allies and advocates along the way, and now I sometimes have the opportunity to be that ally and advocate. I guess my advice to younger women-identified potential scientists is simply to be open to the excitement and potential impact of working in a STEM field. If you are inspired, pursue it wholeheartedly. Find allies and an environment that pushes you to grow, knowing that growth isn't always comfortable, and look for ways to make the path easier for those who come after you.
Do you have any advice for female researchers considering a career in academia?
I chose the department where I work because it is a place that keeps the climate in mind and is progressive. With this kind of backdrop, my academic career has been excellent for me as someone who is ambitious both professionally and personally. My research program doesn't always fit squarely in the traditional definition of chemistry (as inspired by my graduate experience at NU). Despite that, I've never felt any lack of support from my department or had difficulty recruiting excellent chemistry students. I work a lot of hours but those hours are extremely flexible; for example, it's easier for me to get to my kids' school programs than most other working parents. These flexibilities are no accident though – I chose my department with these ideas in mind, and I don't hesitate to ask for what I need. I often think about how this career has a very "long average" and that, even if I ask for more than others in a given time, I will certainly pay that back over the long run, especially in a department that has treated me so well. In summary, my advice is to carefully choose the place where and the people with whom you will do your science.
What is one thing not on your CV that you would like us to know?
We are all so much more than the list of items on our CV. We can't ignore publications or awards, but those should make up a small percentage of how we evaluate our worth. Professionally, my CV does not really reveal the great pride and honor I feel to work with the undergraduate and graduate students who join my laboratory or collaborate with my group. Each of those students has a story about how they arrived in chemistry, the challenges they've overcome, and the skills that they are currently working on to become even better. I love learning these stories and being a part of them. My Ph.D. advisor had a completely outsized impact on my life. I hope that I can do the same. 
Back to top