Student Spotlight: Priscilla Choo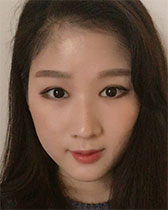 By Irena Garic
Where are you from, and where did you go to school as an undergraduate?
I was born in the States, but my family is in South Korea. I finished my B.S. degree in Chemistry at Indiana University.
How did you become interested in your research?
I had always been interested in the field of nanotechnology, and the idea of using nanostars as drug carriers and optical probes sounded pretty fascinating. I like fundamental research, that we do in our lab, because there are still a lot of unanswered questions that can be answered.
How would you explain what you study to non-scientists?

My current research involves visualizing and understanding the parameters that determine the efficacy of the drug carriers; so that we can design optimal nanoplatforms to target cancer cells better.
What are some potential applications for the work that you're doing?
I think my work has potential biomedical applications, especially in targeted cancer therapeutics and diagnosis such as cellular/tissue imaging.
What is the best part about being in the Odom Group?
Our group is very interdisciplinary – we have people coming from different backgrounds in Chemistry, Materials Science, and Applied Physics. This means that people can offer diverse perspectives and provide unique solutions for solving the same problem. This is part of the reason why many collaborations actually happen within the group.
What are your plans after graduation? 
I want to go into industry and work as a scientist or an engineer. I want to continue working in the field of bioimaging but am open to other fields.
What is your favorite pastime?
In my spare time, I enjoy running, cooking, and watching movies.
Back to top