Faculty Spotlight: Christian Malapit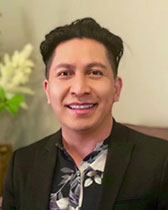 By Ruth Barrera
Christian Malapit was born and raised in the Philippines. He obtained his BS and MS in Chemistry from Far Eastern University and Ateneo de Manila University. In 2016, Christian received his PhD in organic chemistry under the mentorship of Professor Amy Howell at the University of Connecticut. He developed various transition metal-catalyzed reactions for the selective transformations of heterocyclic compounds. His PhD work was recognized with a Connecticut Chemistry Research Award and the ACS Division of Organic Chemistry. As a Boehringer Ingelheim PhD fellow, Christian conducted a year of research at Boehringer Ingelheim Pharmaceuticals in Connecticut where he worked on method development for Alzheimer's disease. Then, Christian moved to the University of Michigan to conduct mechanistic organometallic chemistry for reaction discovery under the mentorship of Professor Melanie Sanford. In 2019, Christian moved to the NSF Center for Synthetic Organic Electrochemistry at the University of Utah under the advisory of Professors Shelley Minteer and Matthew Sigman, where he worked on electrocatalysis. Christian is a recipient of an NIH Pathway to Independence Fellowship, which provides research funding for five years. In January 2022, Christian will start his tenure-track appointment as an Assistant Professor of Chemistry at Northwestern University.
Tell us more about how your career path led you to Northwestern University.
I have always wanted to be a teacher like my mom; however, in my hometown the expectations were different. I was expected to be a farmer and a fisherman just like my dad, brother, uncles, and grandparents to help with my family's needs. But I decided to move to Manila and, thanks to the full scholarship I received from Far Eastern University, pursued college. I then moved to the United States for graduate school, which allowed me to earn a doctrate and provide for my family in the process. My passion for research and mentoring grew during my PhD studies and from the inspiration from my mentor, Professor Amy Howell. This led me towards my dream of becoming a professor at a university.
What are you most looking forward to by being at Northwestern?
I am thrilled to be part of a community with great vision and a department filled with amazing colleagues and scholars. I am excited about working with talented students to build and create research groups that are dynamic, collaborative, and diverse, and work on cutting-edge research. I want to share this privilege of science with outstanding graduate and undergraduate researchers.
What are your current research interests / projects and tells us a little bit about that?
My synthetic chemistry lab has specific research interests in organic chemistry, organometallic catalysis, and synthetic electrochemistry. We seek to develop new reactions and mechanisms that expand both the scope and sustainability of synthetic chemistry and energy systems. Emphases of our program include the rational design of transition-metal catalysts and the creative use of electrochemistry to convert readily available starting materials into value-added products, such as pharmaceuticals, agrochemicals, and energy-storing molecules.
Describe your teaching style.
My teaching style has been described by former students as having well-organized lectures, making essential topics understood before moving forward, and connecting fundamental knowledge in chemistry to new and advanced topics. I think my teaching style is similar to many passionate chemistry teachers in the sense that I work to connect with my students and try to level the playing field. This is especially important in an introductory chemistry course where students integrate from different institutions and teachings.
Can you tell us something not on your CV that you would like us to know?
Painting is my first love and, during grade and high school, I represented my hometown and province / State in several art competitions. I received a full scholarship from Far Eastern University in Manila and enrolled as a painting major. It was during my general chemistry coursework that I was recruited by my professors for chemistry. It was the first time an expert believed in me, so I was quickly convinced.
I have been the breadwinner of my family for over 12 years. I have supported my parents, older brother and his family, and sent my younger brother to college. Being able to provide for my family will always be my proudest achievement.
Back to top