Winter 2022 Chemistry Newsletter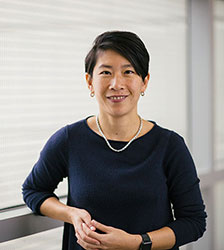 Welcome to our Winter newsletter and Happy New Year! Given the ever-changing adaptations required by the pandemic, our Winter quarter started with a two-week Wildcat Wellness before in-person instruction resumed. And despite feeling like we've been here before, the Chemistry community has done an admirable job responding to what's been needed. From our hard work over the last two years, we have gained experience in transitioning among remote, hybrid, and in-person activities on campus. Please enjoy the profiles of those in our community and recent high-impact research advances.
 Teri W. Odom, Chair 
Department Updates
Research News
Student Awards and Events
From the Archives
In this 1926 photograph, three women undergraduate students and their instructor conduct a chemistry experiment – cooking an egg through a chemical reaction with liquid oxygen, which is a pale blue liquid at –183 °C.
Back to top