Staff Spotlights: Thom Bateman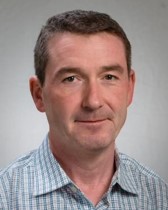 By Ruth Barrera
Thom Bateman joined Chemistry in October of last year and is the Program coordinator for Nathan Gianneschi and IMSERC. Previously, Thom worked in the Molecular Biosciences Department for 6 years as a Program Assistant and is a recipient of the Weinberg Community Excellence Award.  
Thom grew up in Ohio and was in the Air Force for 26 years where he lived in many places like Guam, England, and Germany. He retired from the Air Force at the Pentagon as the Superintendent of Studies and Analyses. Thom began his civilian academia career at the Air Force Academy in Colorado Springs and eventually relocated to the Chicago area. Before joining Northwestern University, he coached adults with disabilities so they could gain valuable life skills and assisted them in finding employment opportunities.
What is your favorite thing, so far, about being a Program Coordinator in Chemistry?
As a Program Coordinator, I enjoy the exposure I get to a variety of tasks - no day is ever the same. I also enjoy working with people at all levels: faculty, students, and my fellow staff members.
What are your current projects?
I've only been in the position for a short-time and I'm still learning. I've taken on billing for IMSERC and support the Gianneschi Group too. I have had some exposure to grants as well and am thankful for the guidance of our department's Research Administrators in that area.
 What would you do (for a career) if you weren't doing this?
I would retire if I could, but I still have bills that need to be paid.
If you could meet anyone, living or dead, who would it be and why?
Camille Herron, who is a very inspiring ultrarunner. I've been lucky enough to meet her a couple times and can say that she is a great person and lots of fun to be around.  
What are your current interest(s) and tells us a little bit about that?
I enjoy running and usually run with my wife and friends from the Glenview Runners club. My favorite place to run is on the North Branch Trail. You will find me out there every day and on the weekends. I'm often asked what my favorite marathon is, and I have three favorites all for different reasons: Paris (because it is Paris!), Marine Corps Marathon (because it's in DC., and I love DC., plus the Marines do everything right), and Pikes Peak (because it is epic). 
As a runner, can you tell us more about what that's like, how you got started and what you have done lately?
Do not even get me started talking about running (unless you have lots of time). I ran my first half marathon in 2006 to see if I was disciplined enough to train for a full. Since then, I've completed over 80 marathons and several ultras. I'm just starting to plan my 2022 race schedule and so far, Nashville and Chicago marathons have made the list. I might have to give the 100 miler another try but we will see about that one.
Back to top