Student Spotlight: Elamar Hakim Moully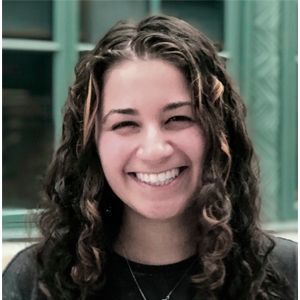 By Ruth Barrera
Elamar Hakim Moully is an alumna born in Israel and moved to San Francisco, California at the start of 7th grade. Elamar lived in San Francisco until she moved to Southern California to attend the University of California, Los Angeles (UCLA), where she received a joint BS/MS degree in Chemistry. She then moved to Chicago to attend Northwestern University for graduate school. 
What group were you with and what was your favorite part about the group? 
While at Northwestern I worked in Professor Milan Mrksich's research group. My favorite part about the group was the people – my labmates and colleagues, they were my support system since day one. I met Dr. Sarah Anderson-Whittom in the Mrksich lab, who is now one of my best friends. I even had the honor of being her bridesmaid this past summer. I would go with my labmates and collegues to Starbucks almost daily, we attended happy hours, and watched The Bachelor together. A few of us even took a day trip to Wisconsin to meet one of the contestants, Peter K. from Rachel's season (for those who watch). I am so thankful for all the people I met throughout my time at Northwestern.
What was your favorite Chemistry class?
My favorite chemistry class while at Northwestern was Practical Training in Chemical Biology Methods and Experimental Design with Professor Neil Kelleher. During the class we learned about all the tools, resources, and core facilities at Northwestern and how we can use them to supplement our research. I really appreciated the applied training and methodology development we discussed in the class since it helped shape my first project in graduate school (which ultimately made up half my thesis!).
Is there a professor that has made an impact on your academic career? 
My undergraduate advisor, Professor Alex Spokoyny (also a Northwestern alum who worked under Professor Chad Mirkin) has made the biggest impact on my academic and professional career. Working in his lab while at UCLA inspired me to attend graduate school. He helped me become a confident and independent scientist and continued to offer guidance and mentorship throughout my time in graduate school and even attended my thesis defense.
Since you obtained your PhD recently, you become a Program Development Specialist at myCHOICE at the University of Chicago.  Tell us more about the transition and your new projects. 
Throughout my PhD I had the opportunity to work with the Baxter Center for Science Education at Northwestern. That experience ultimately encouraged me to pursue a career in science education and program development, and that is how I arrived at my current role at the University of Chicago. The myCHOICE program is designed to expose, educate, and provide graduate students and postdocs at the University of Chicago (and the greater Chicago area) with career options and experiences that leverage their research training. We organize seminars, workshops, internships, treks, and more, highlighting all the vast career paths available to graduate students in the sciences. I am really enjoying my new position and am so appreciative of all the wonderful people I get to work with.
What has been the highlight of your academic career thus far?
Submitting my first academic publication that was both the most wonderful and also the most terrifying moment of my graduate career. I worked so hard on my first publication, trying to make it as perfect as possible (which is almost an impossible feat in science), so finally seeing it come together to make a coherent story was incredibly rewarding. I remember hitting that submit button and then running over to tell my labmates, and we all went to Starbucks to celebrate with extra pastries. 
Is there any advice you could give students?
You got this! I know graduate school can be overwhelming sometimes (and I know the world is overwhelming right now), but just have faith in yourself — everything will work out. Make sure you take time for yourself to do things that make you happy!
What do you like to do outside of work?
I am a big fan of watching reality television — The Bachelor, Selling Sunset, The Circle — and then discussing every episode with friends. Also, puzzles; I've been working on a 2000-piece puzzle, which has been a lot of fun (and quite a triumph for me!). And of course, exploring new restaurants across Chicago.
Where do you hope to be in your career in the next 10 years?
In 10 years, I would love to be holding a senior leadership role in a science education and outreach center, where I can design and develop new programs for future scientists. I want to create opportunities for young students (as early as elementary school students) to explore and get excited by science.
Back to top